Natural Hairstyles For Short Hair
1. Short and Messy + High Skin Fade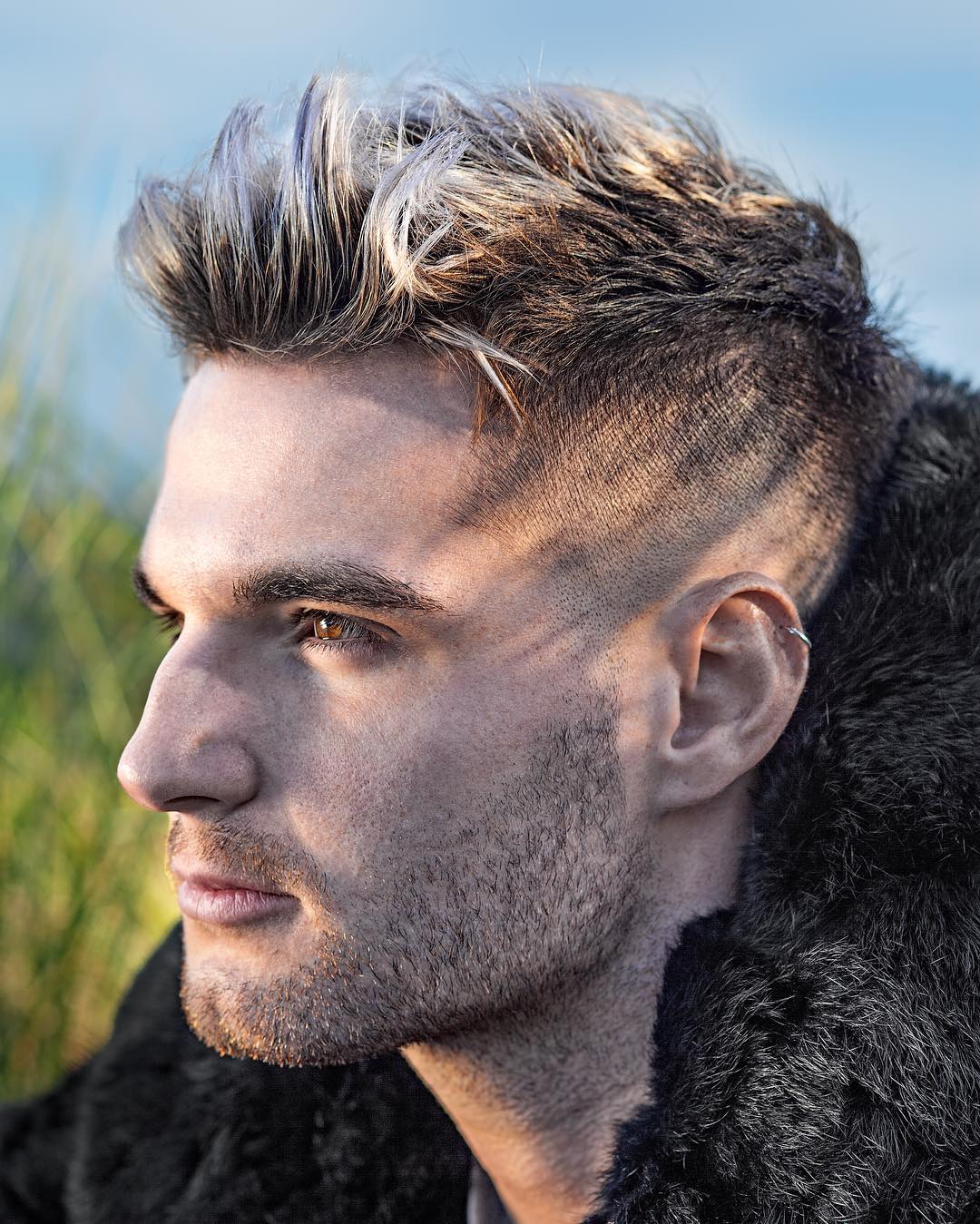 Tom Baxter Hair
A spiky textured short hairstyle for men with a high skin fade and a disconnected stubble beard as a cool compliment.
2. Short Textured Men's Haircut + High Fade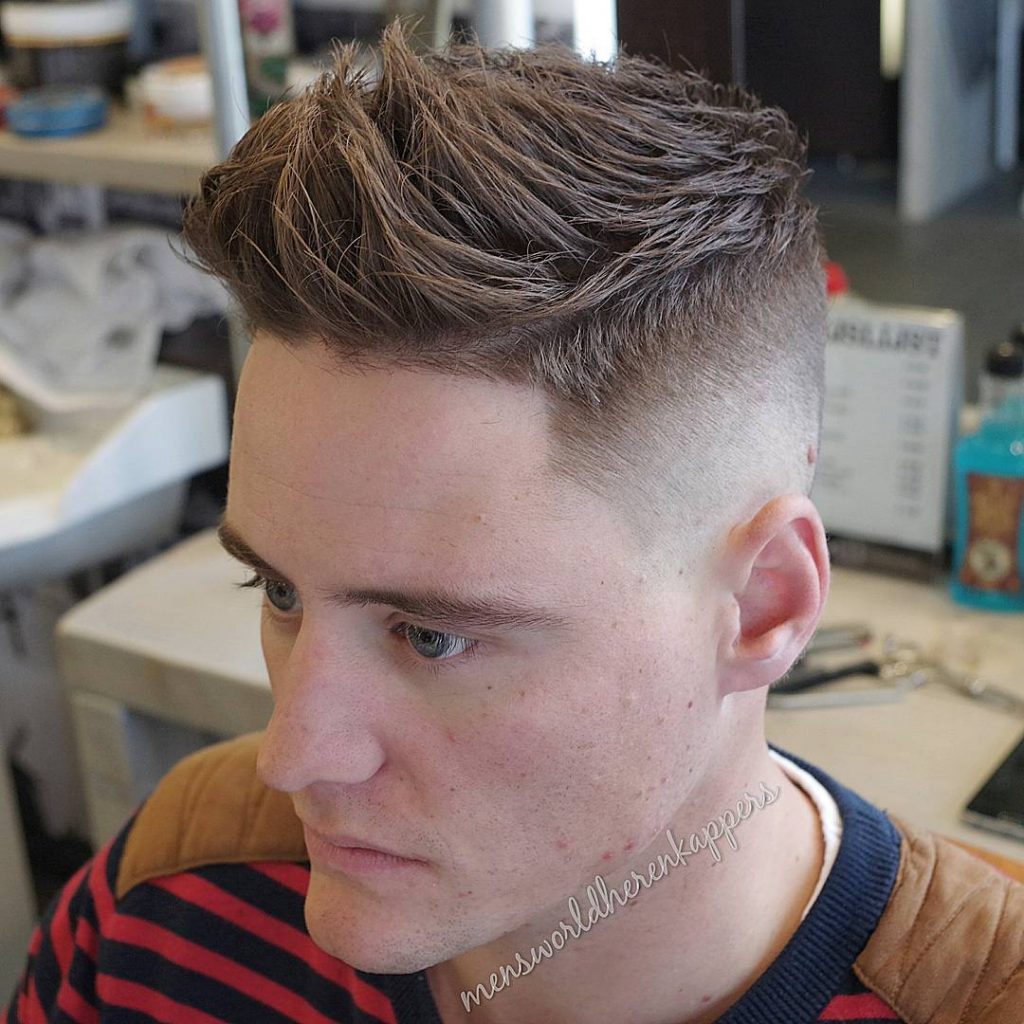 This is a cool-looking textured haircut that is nicely disconnected from the short sides.
3. Spiky Short Men's Hairstyle + High Fade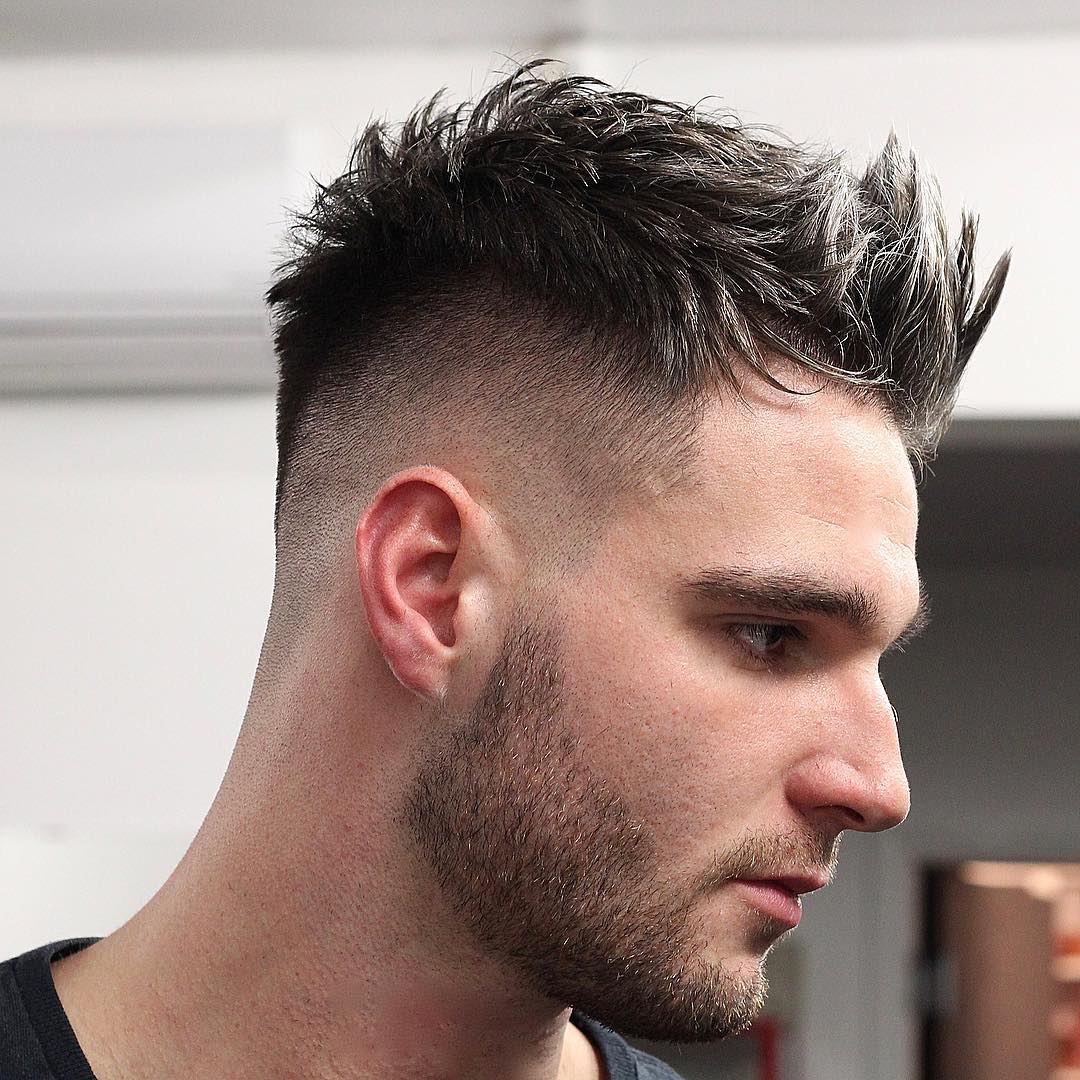 Tom Baxter Hair
Another cool spiky short hairstyle for men. Use a pomade to play with textures.
4. Short  Slick Back + Wavy Hair + High Fade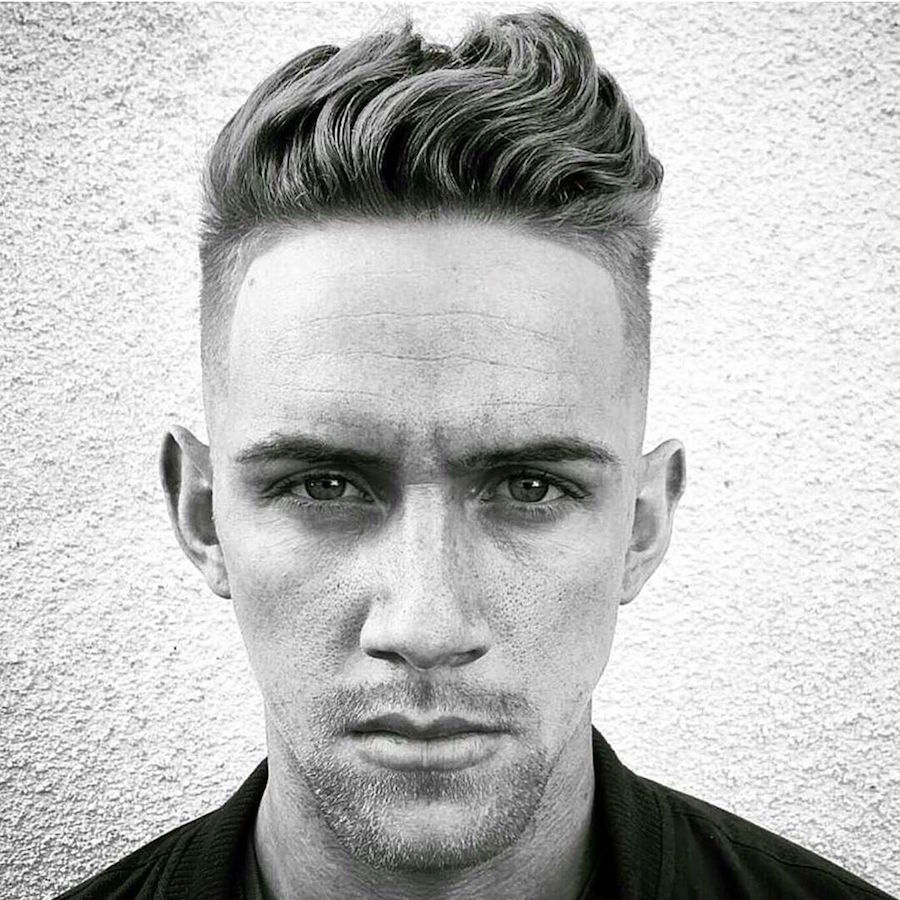 The Greek
Short wavy hair styled back. A modern slicked-back hair look with a bald high fade on the sides.
5. Short Pompadour / Quiff Hairstyle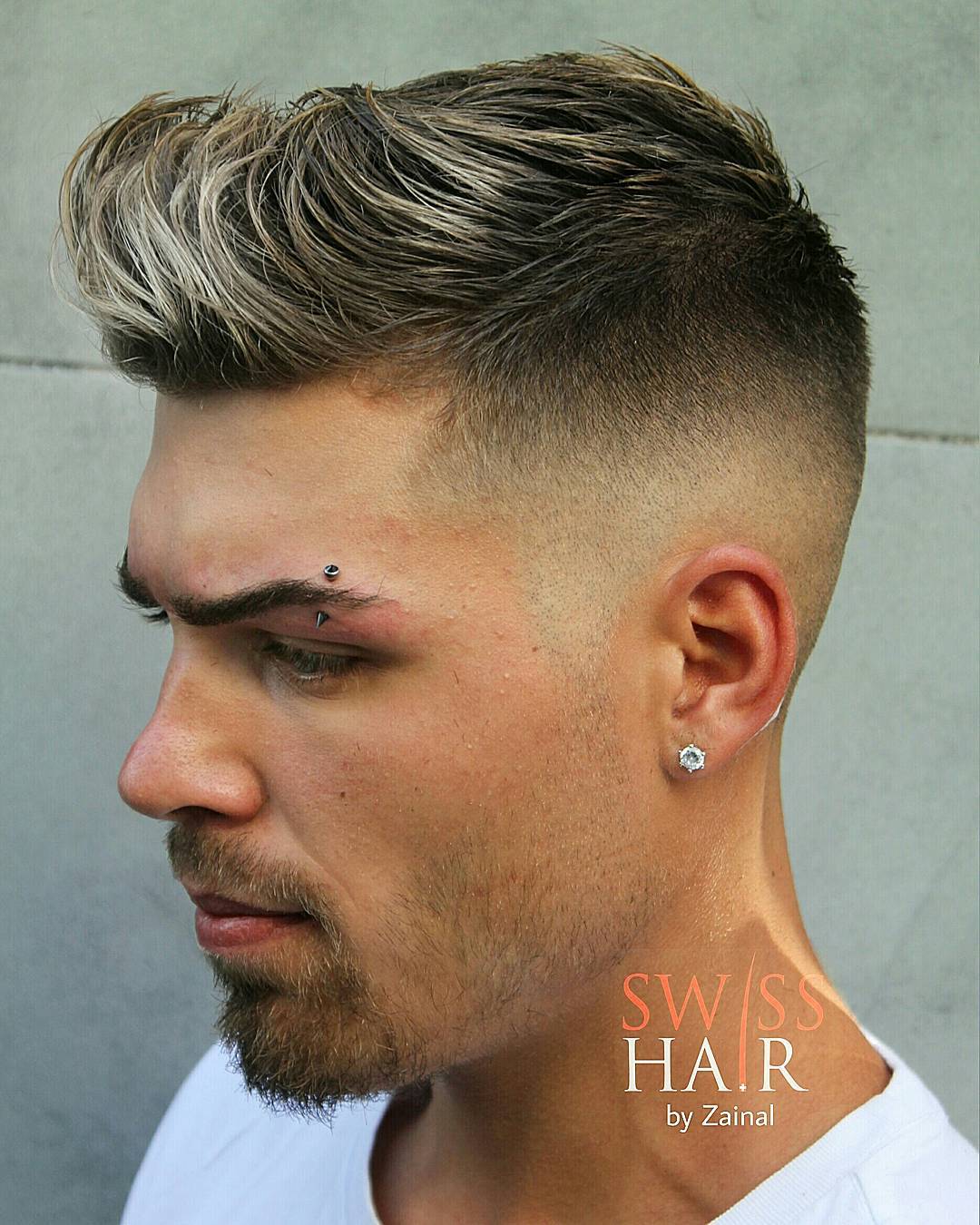 Swiss Hair by Zainal
This is a cool short men's hairstyle that combines the look of a pompadour and a quiff all at once.
6. Classic Side Part Short Hairstyle For Men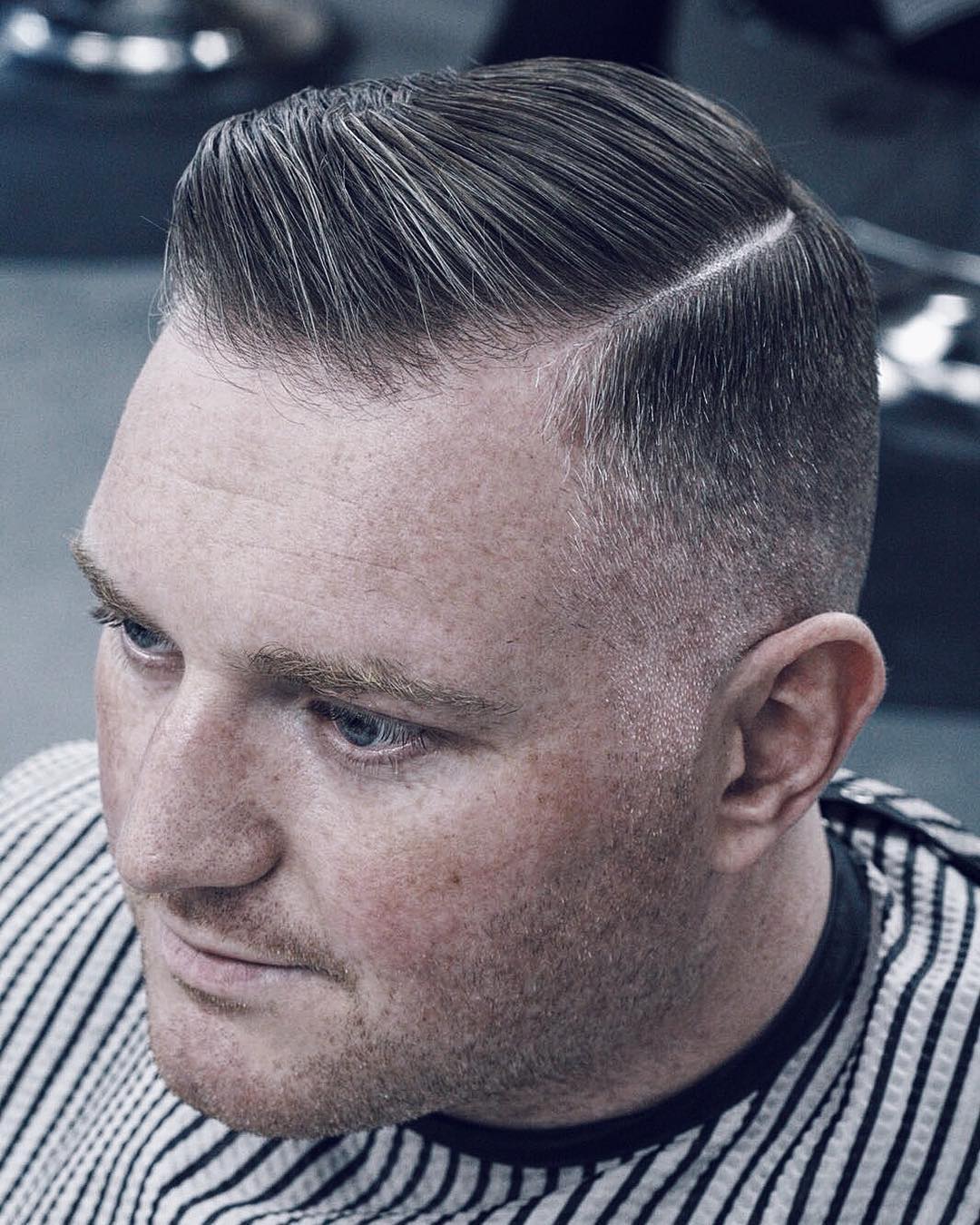 Nomad Barber BLN
This is a timeless short hair hairstyle for men. This short haircut is styled with a super tight side part.
7. Short Textured Crop + Drop Fade Haircut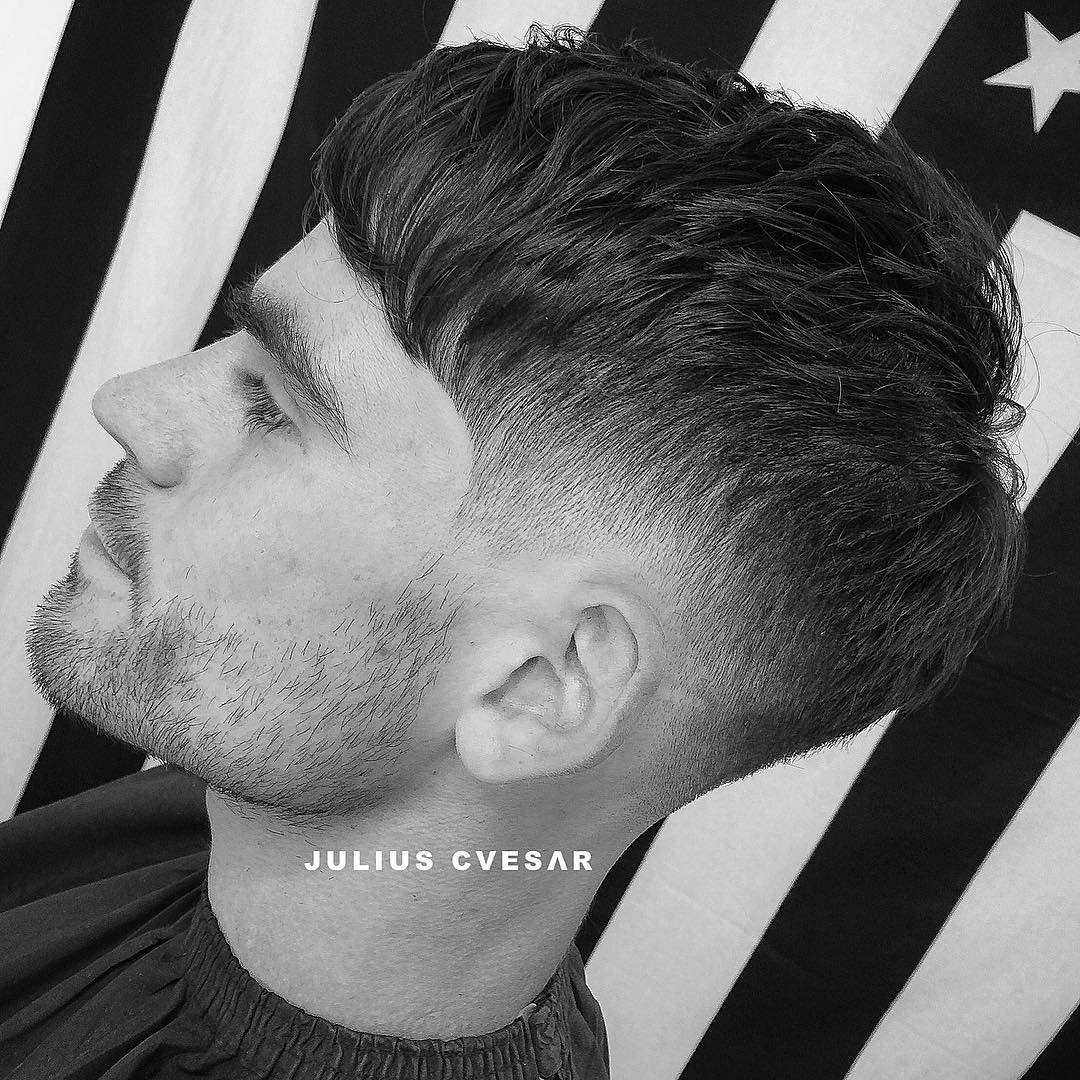 Julius Cvesar
A super versatile short textured crop haircut with a great-looking drop fade. You can style this haircut forward into the crop look or style it back so that your hair stands tall.
8. Textured Crop + High Fade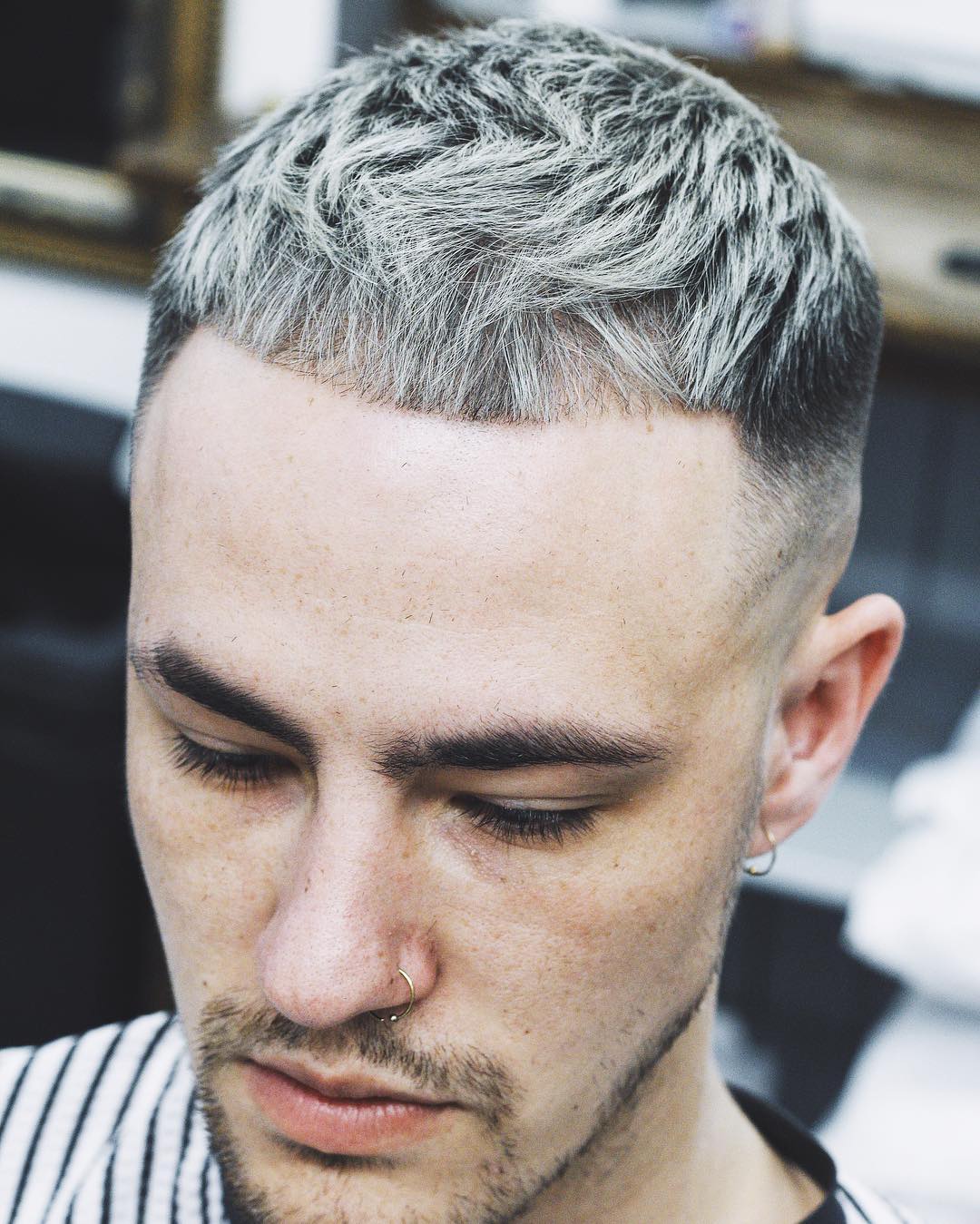 Mr. Liptrot
This has been a popular ultra-short haircut for men. The super-short crop haircut with textures.
9. Short Sponge Curls + Line Up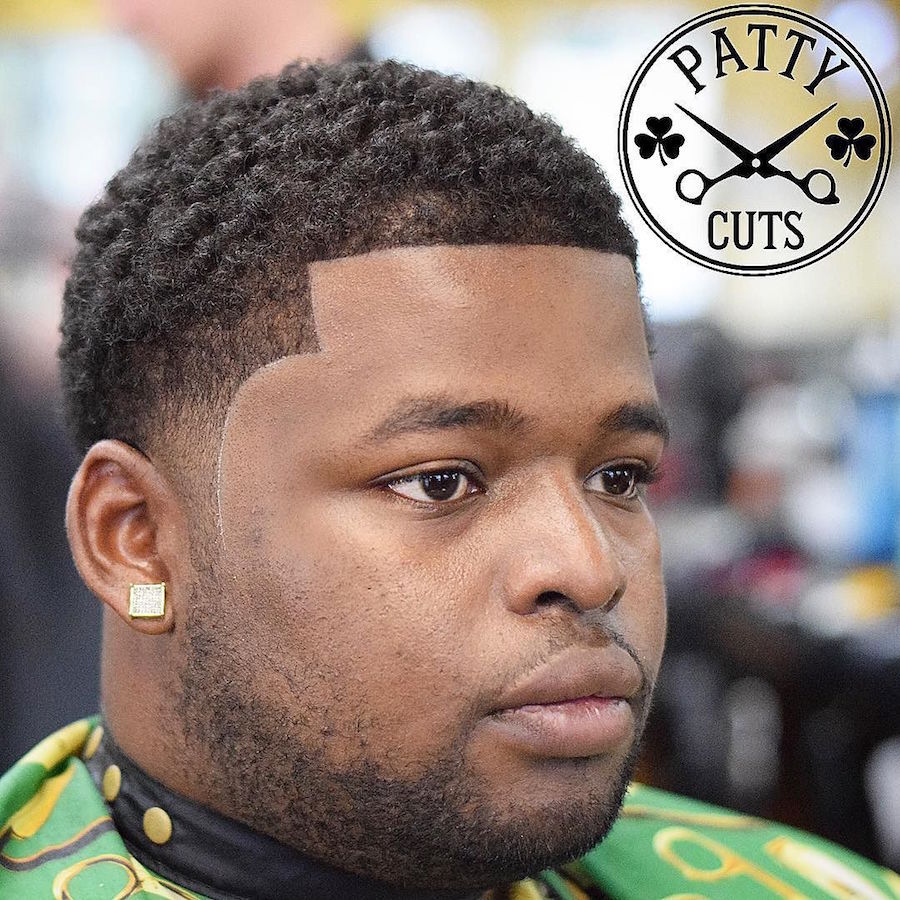 Natural curls cut short and styled with a twists sponge. Super cool.
10. Short Men's Hairstyle With Textures + Mid Fade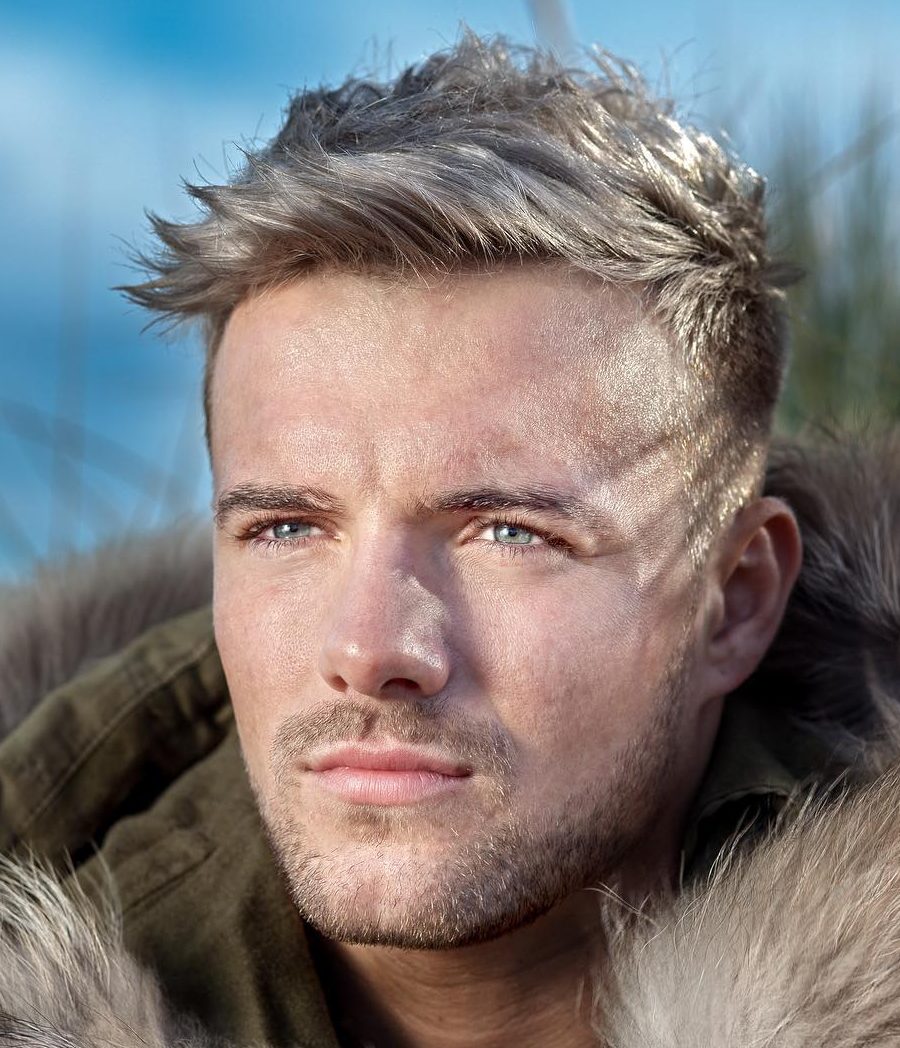 Super short textured hair provides a great-looking spiky short men's hairstyle. Work pomade into the hair and style it in different directions until you like how it looks.
11. Short Spiky Hair + Low Fade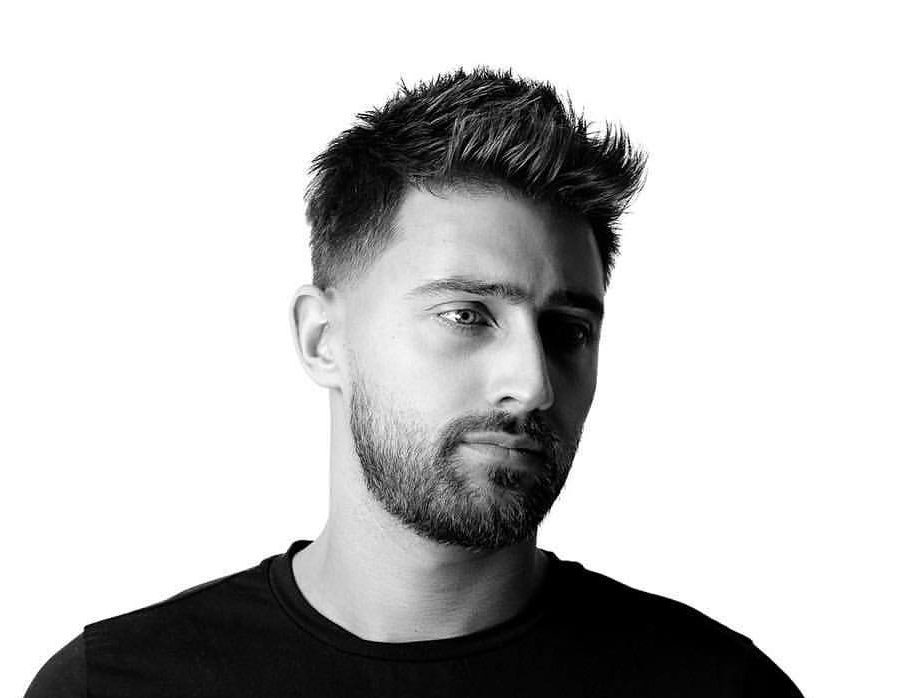 Chambers Sheffield
A classic short to medium-length men's hairstyle styled into a quiff.
12. Messy Textured Crop Haircut For Short Hair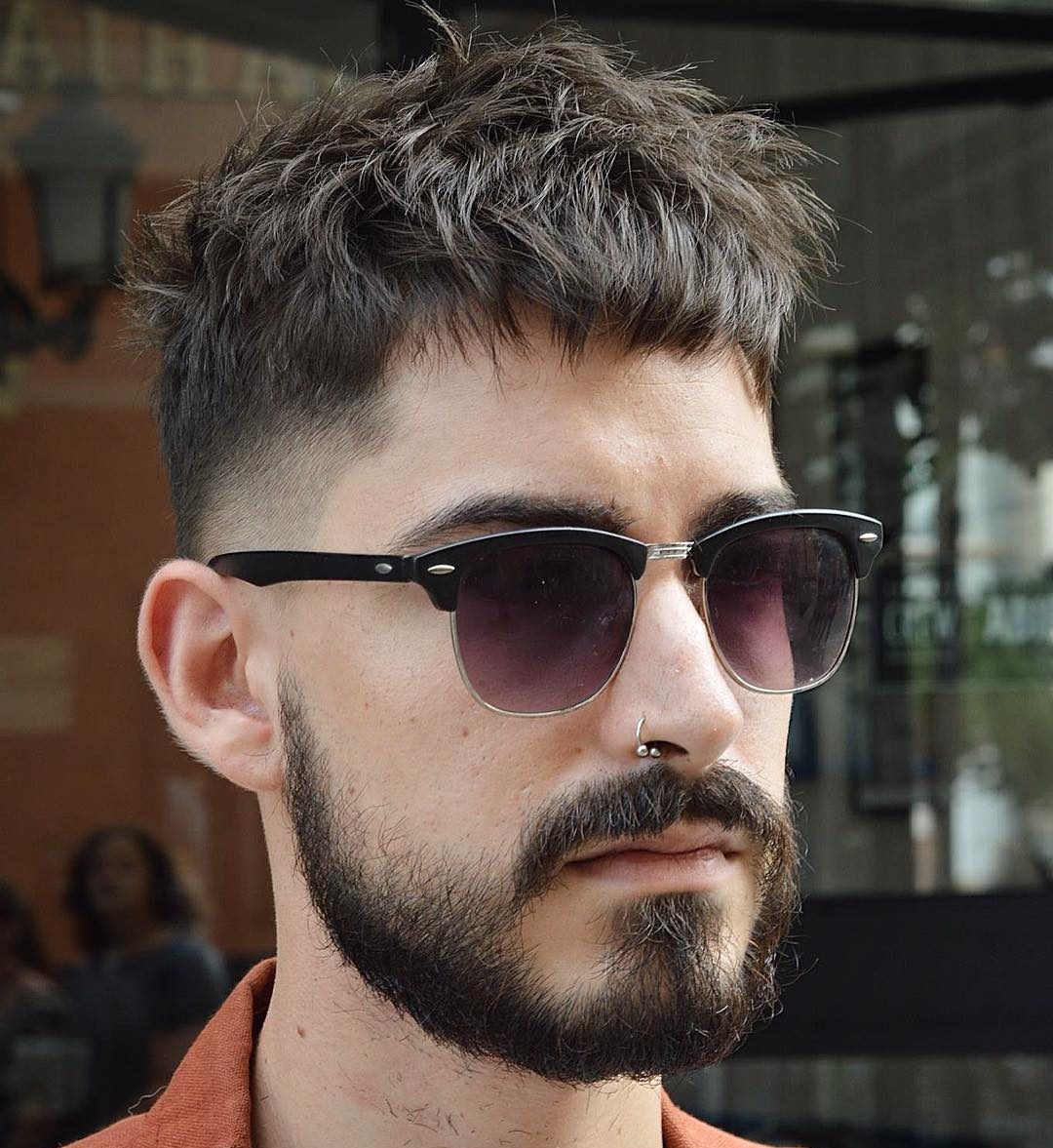 Viroga's Barber
Cool short crop hairstyle with a low fade takes some of the emphasis of the crop and leans towards a more classic short look.
13. Slick Back for Short Hair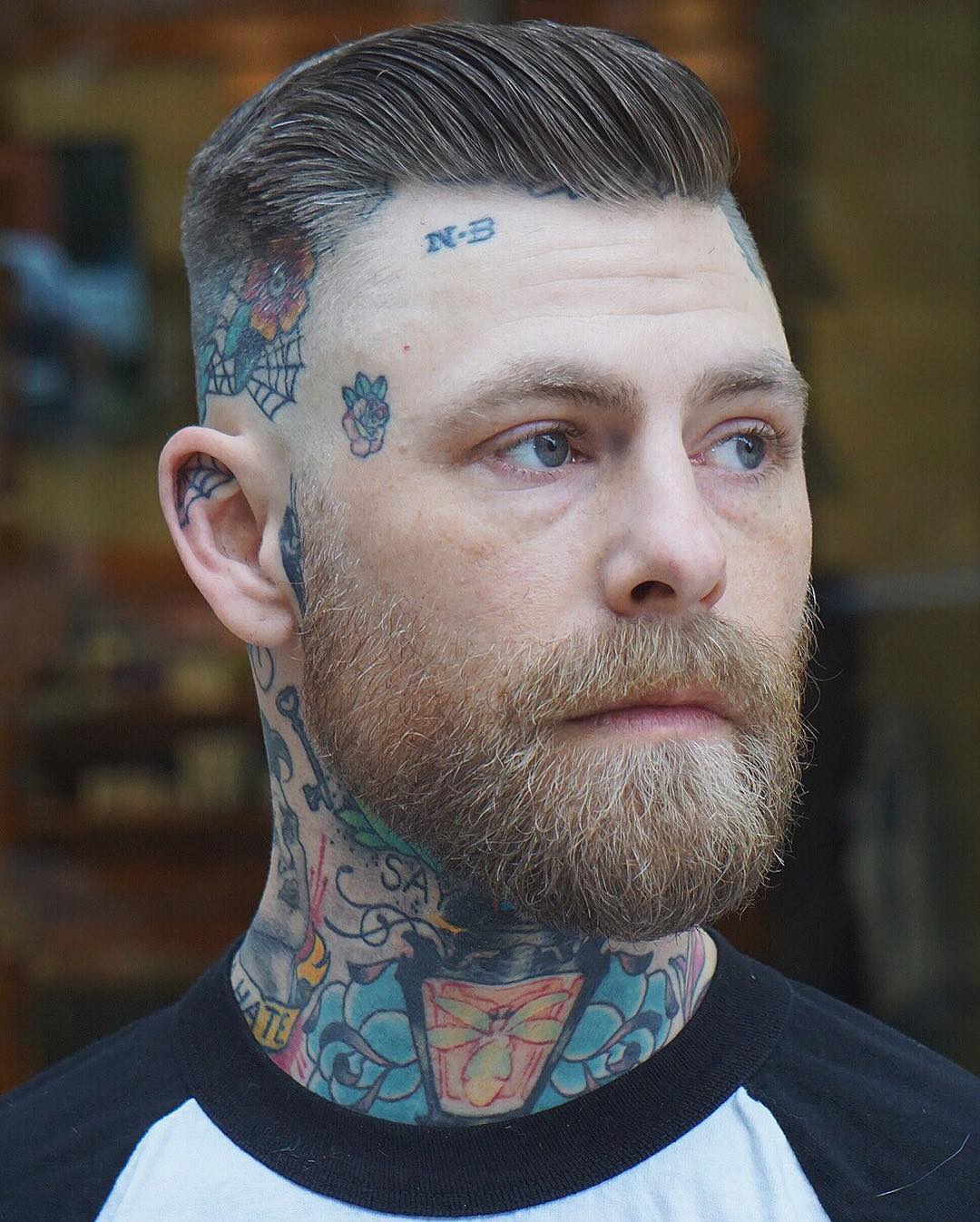 Brian at Squire Barbershop
I totally love this short hairstyle for men. Super easy. Get a classic short men's haircut, apply a pomade with a shine to damp hair, and simply comb in a nice tight look. You can comb it over to the side, or just comb it into a nice slicked back look.
14. Caesar Cut + Short Sides + High Fade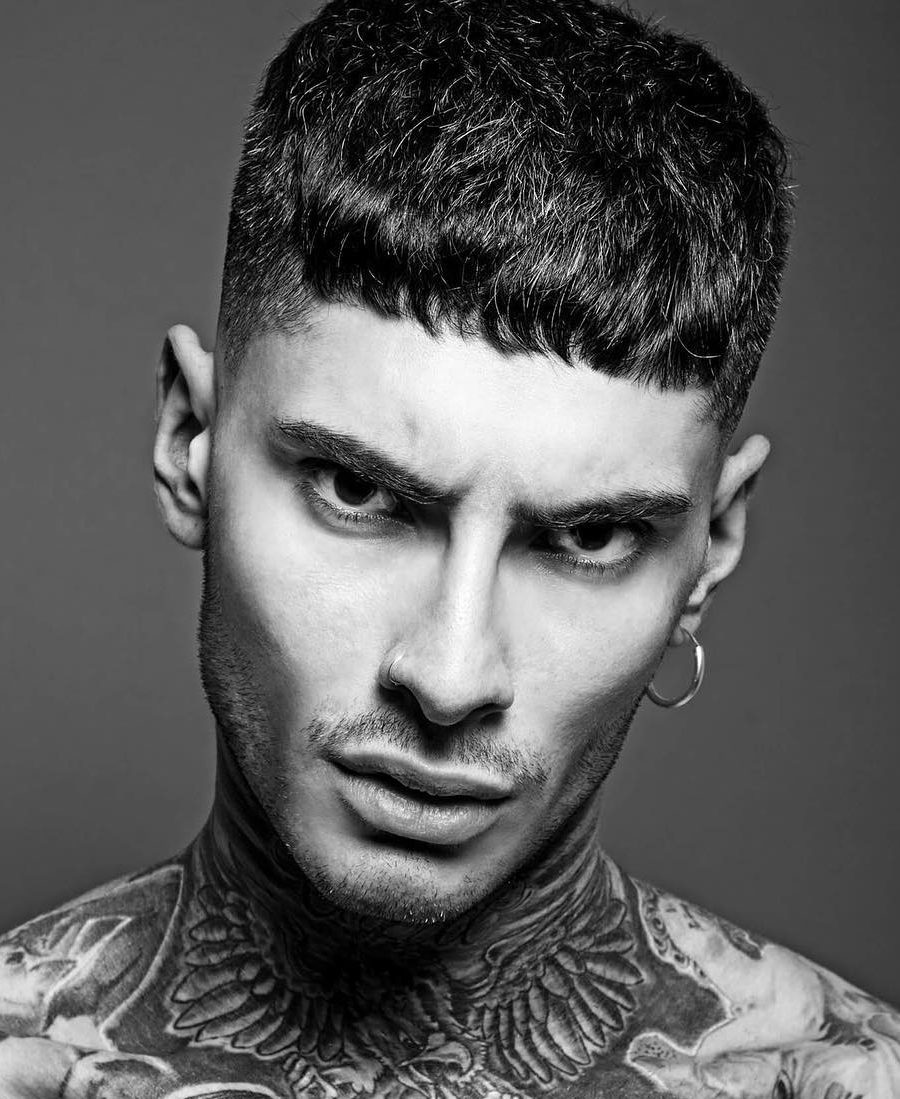 Kevin Luchmun
A modern take on the caesar haircut. Ultra short. Nice short sides.
15. Buzz Fade + Line Up + Low Bald Fade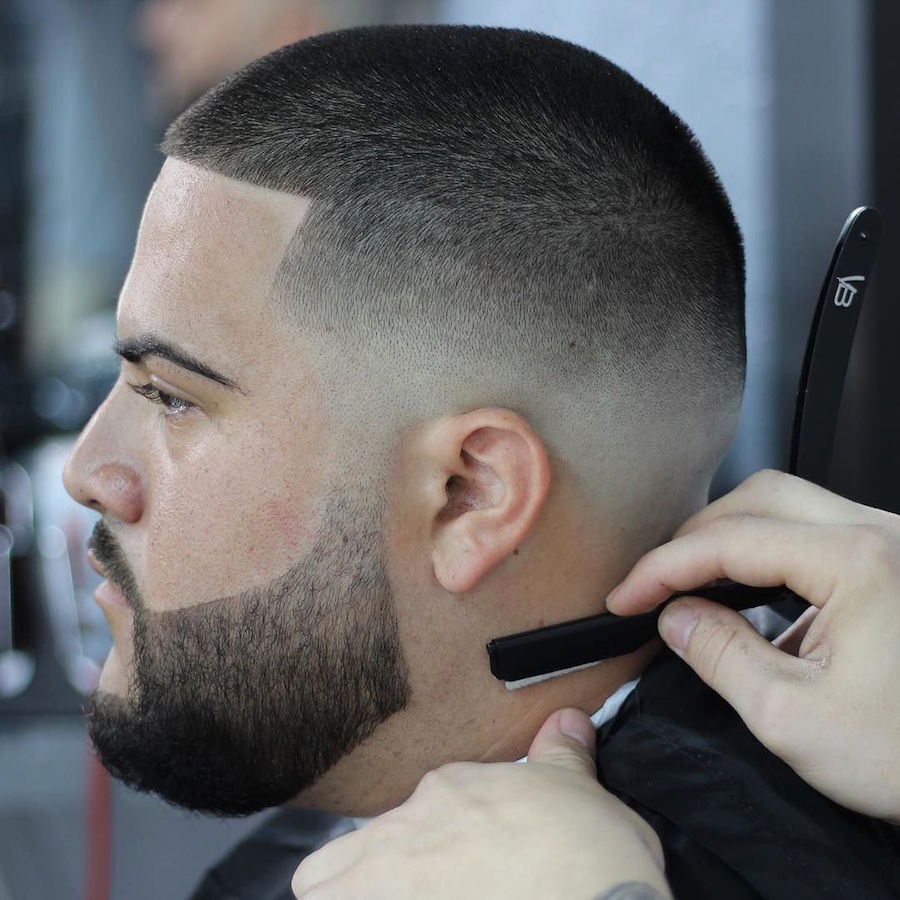 This is the perfect all Summer long haircut. Just keep it nice and trim and fresh looking. The buzz cut with a clean lineup in the front, and finished off with a low bald fade.
 16. Ultra Short Buzz Fade + Long Beard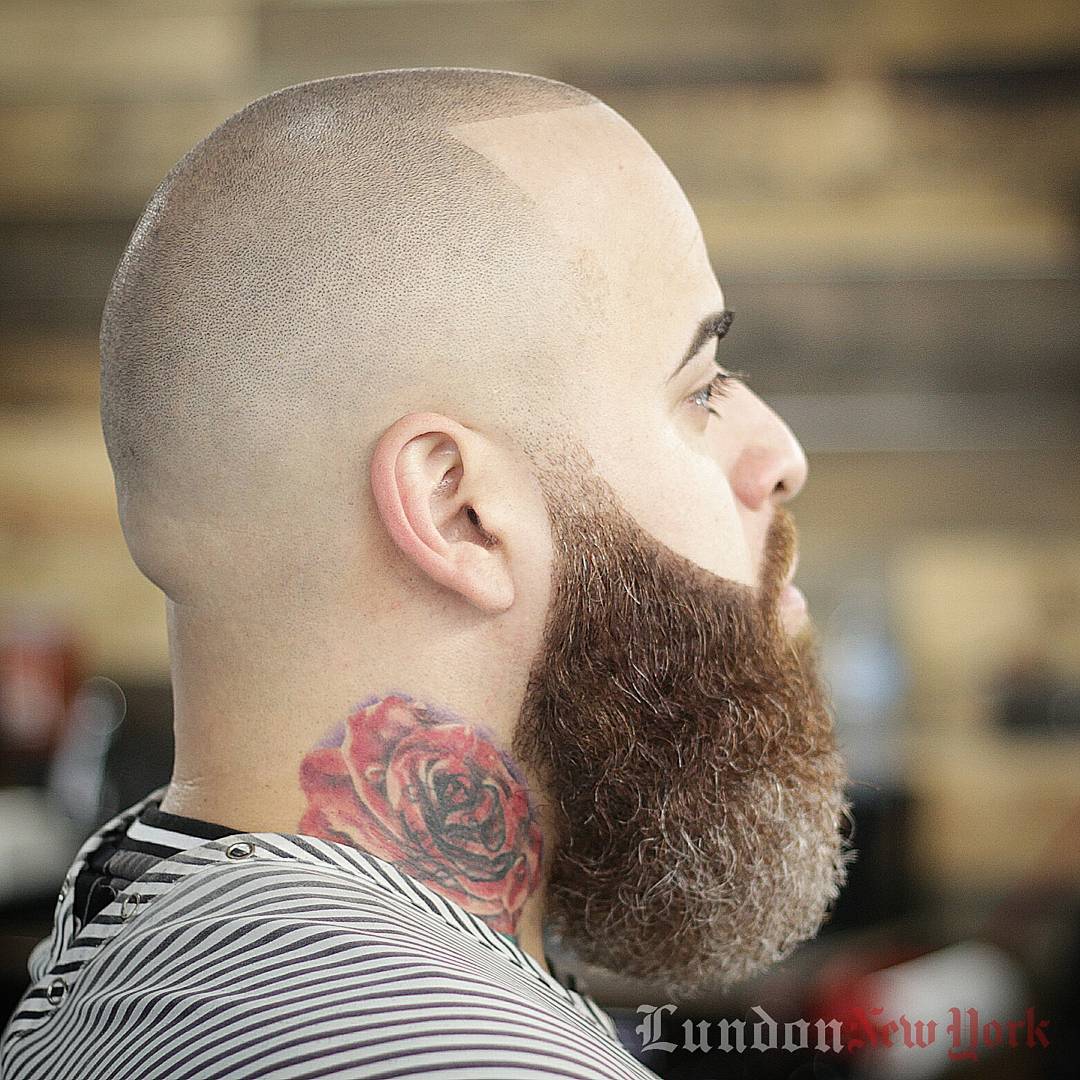 London New York
Do you have a full beard? Why not put the emphasis on it? Here we have an ultra-short haircut on top but right down to stubble.
17. Buzz Cut For Natural Curls + Low Drop Fade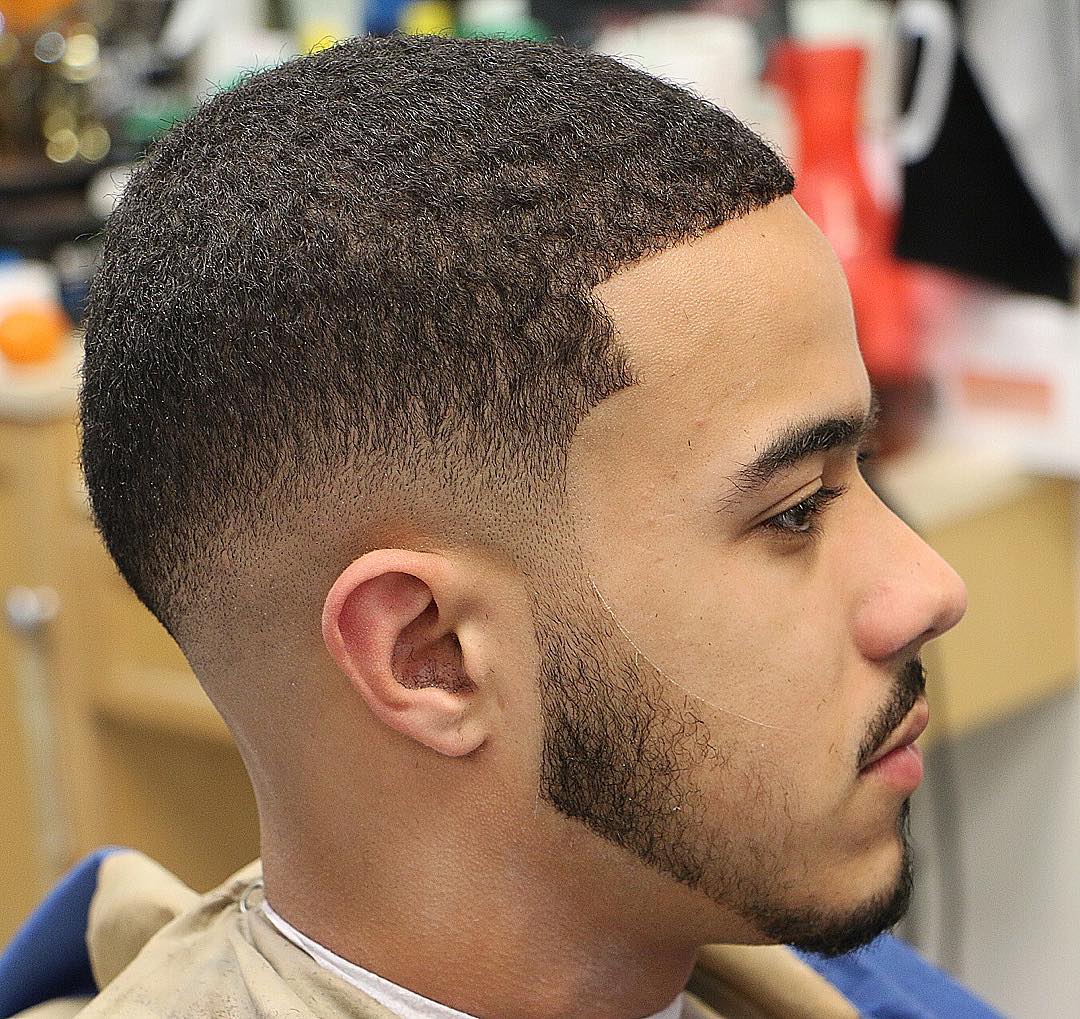 Super nice, totally clean looking short men's haircut with a low drop fade and a line up in the front.
18. Thick Hair Crop With Texture + Bald Fade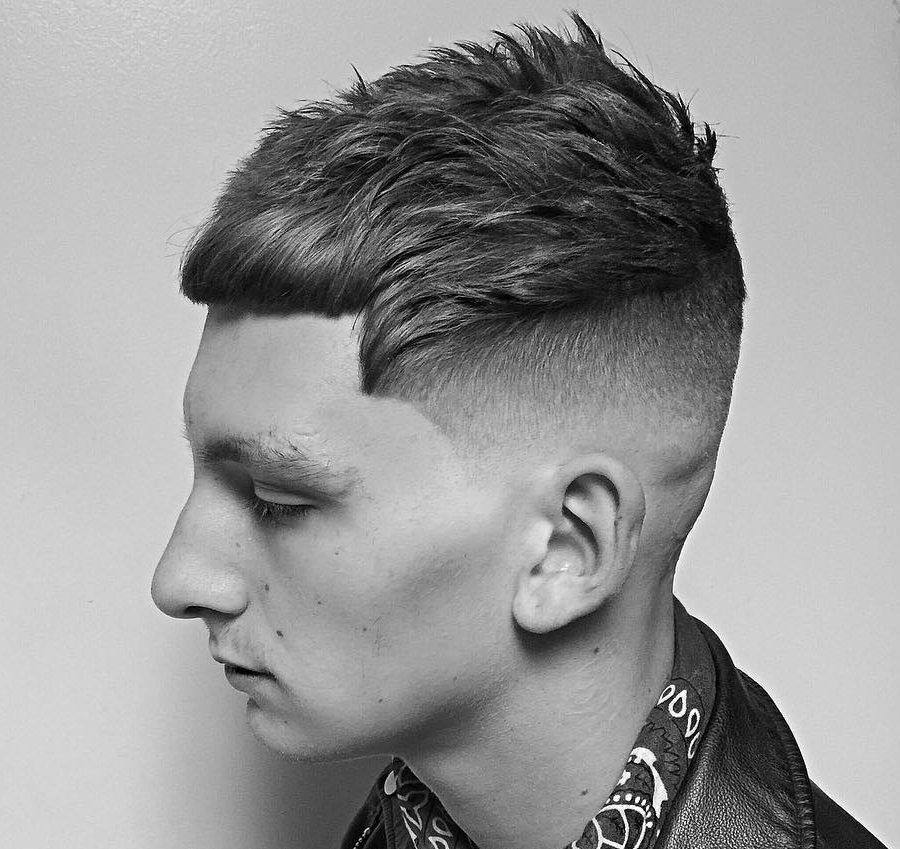 Mikey
A cool haircut for short thick hair. This is a blend of an undercut and a cropped haircut.
19. Simple Short Hairstyle for Men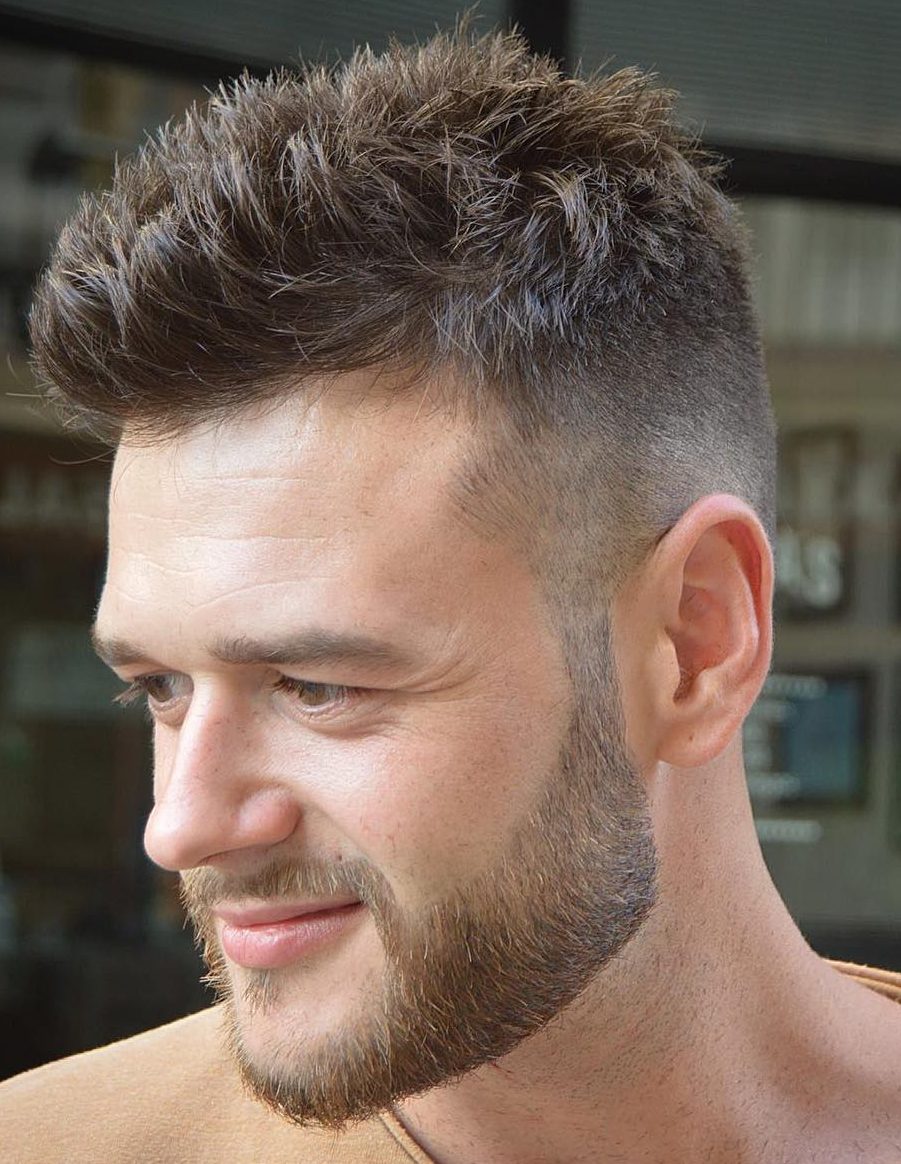 Viroga's Barber
An easy, simple short hair hairstyle for men. Simply wash, towel dry, and brush straight back. Let it fully dry and use a light hold pomade to give your hair a bit of extra body and volume.
20. Short Hair Pompadour Hairstyle For Men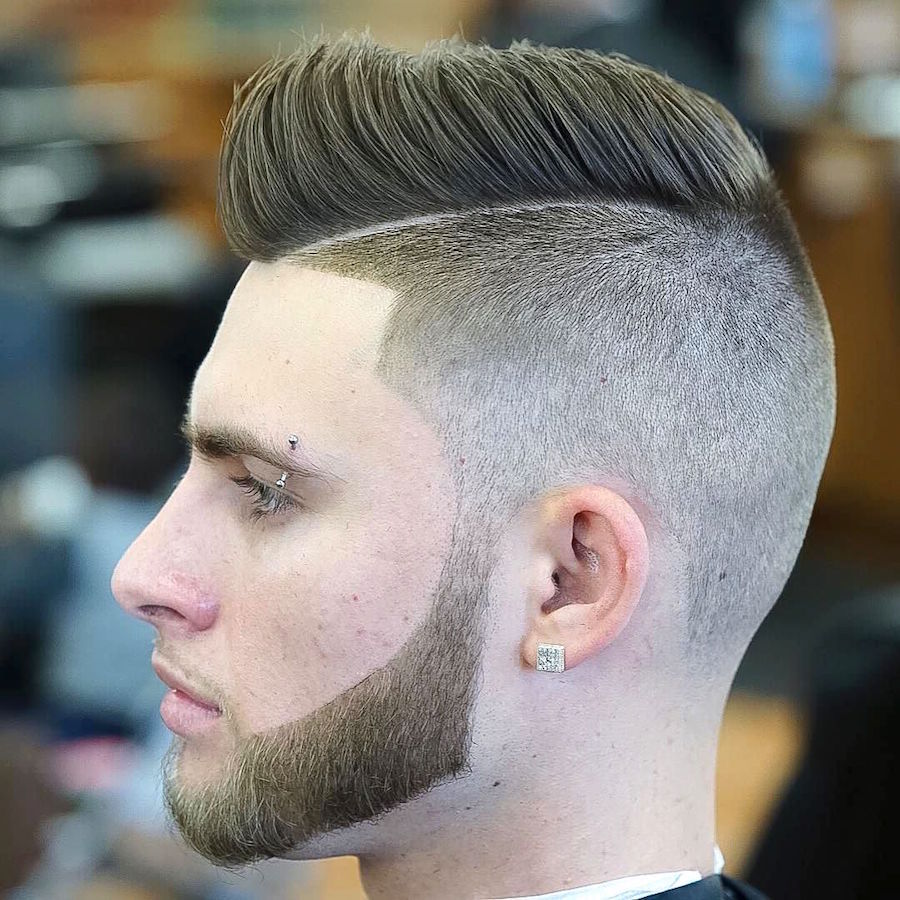 A cool looking blend of a short mohawk undercut and pompadour hairstyle.
21. Short Side Part Men's Hairstyle For Curly Hair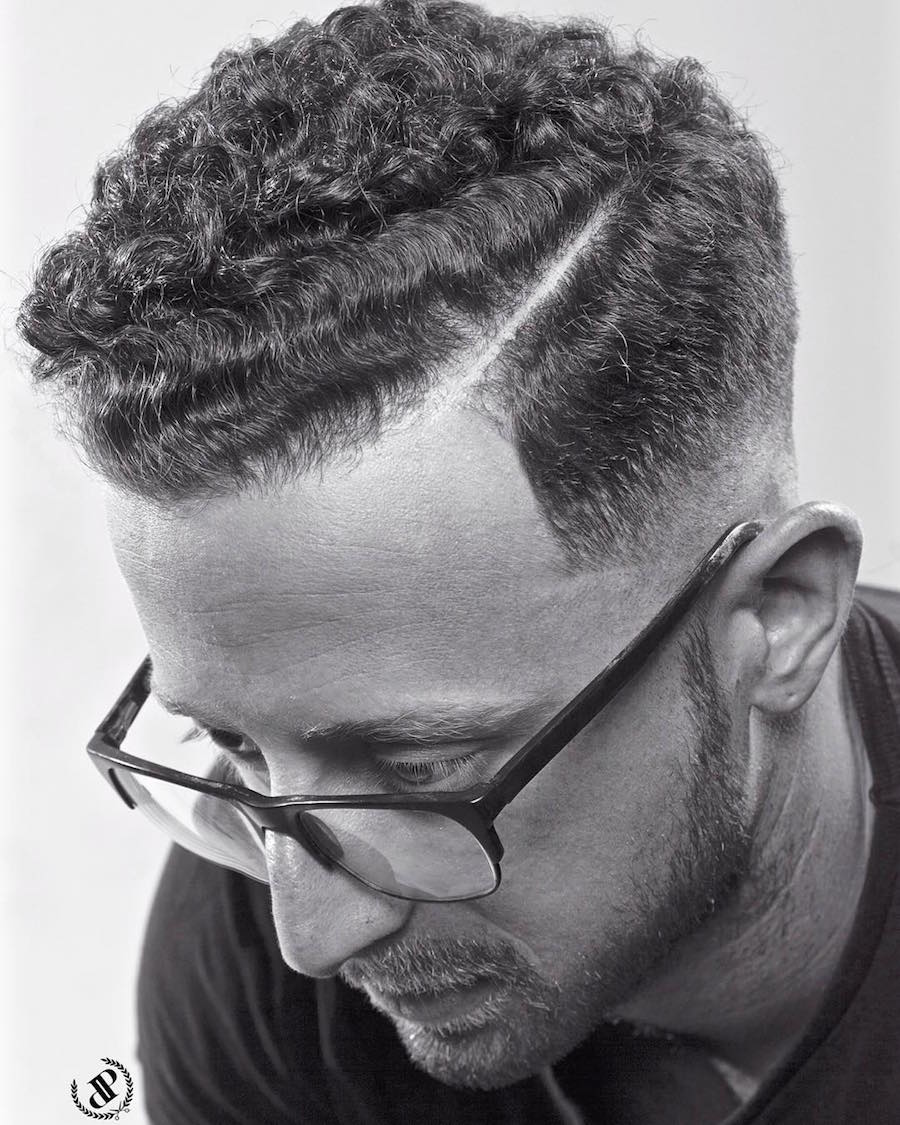 Dan Perri
A classic look for curly hair. Side part combover hairstyle was done on short curly hair.
22. Super High Fade + Surgical Line + Short Curly Hairstyle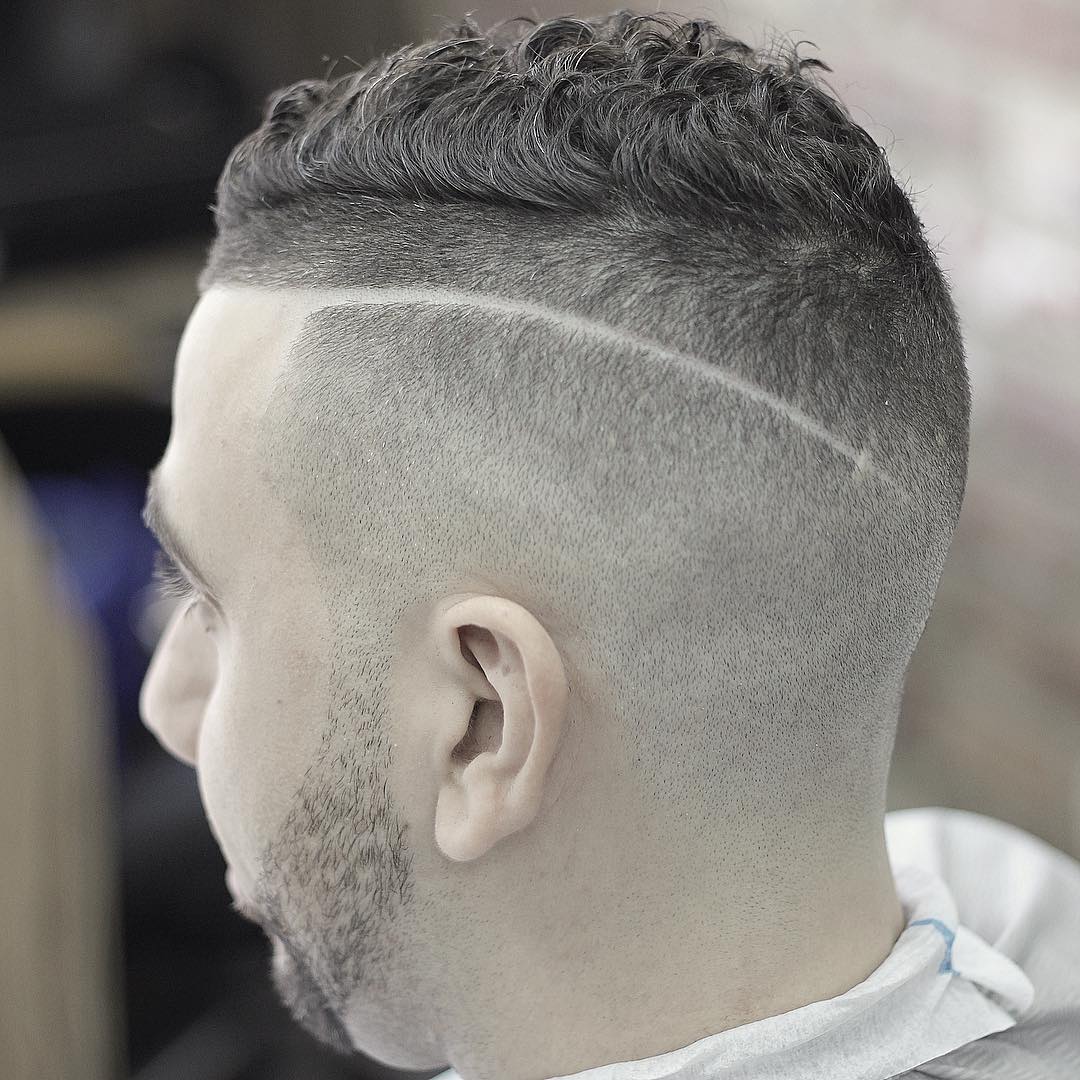 A fun look for short curly hair. A short curly undercut hairstyle for men with a very high fade and surgical line.
23. Short Haircut for Guys with Thick Hair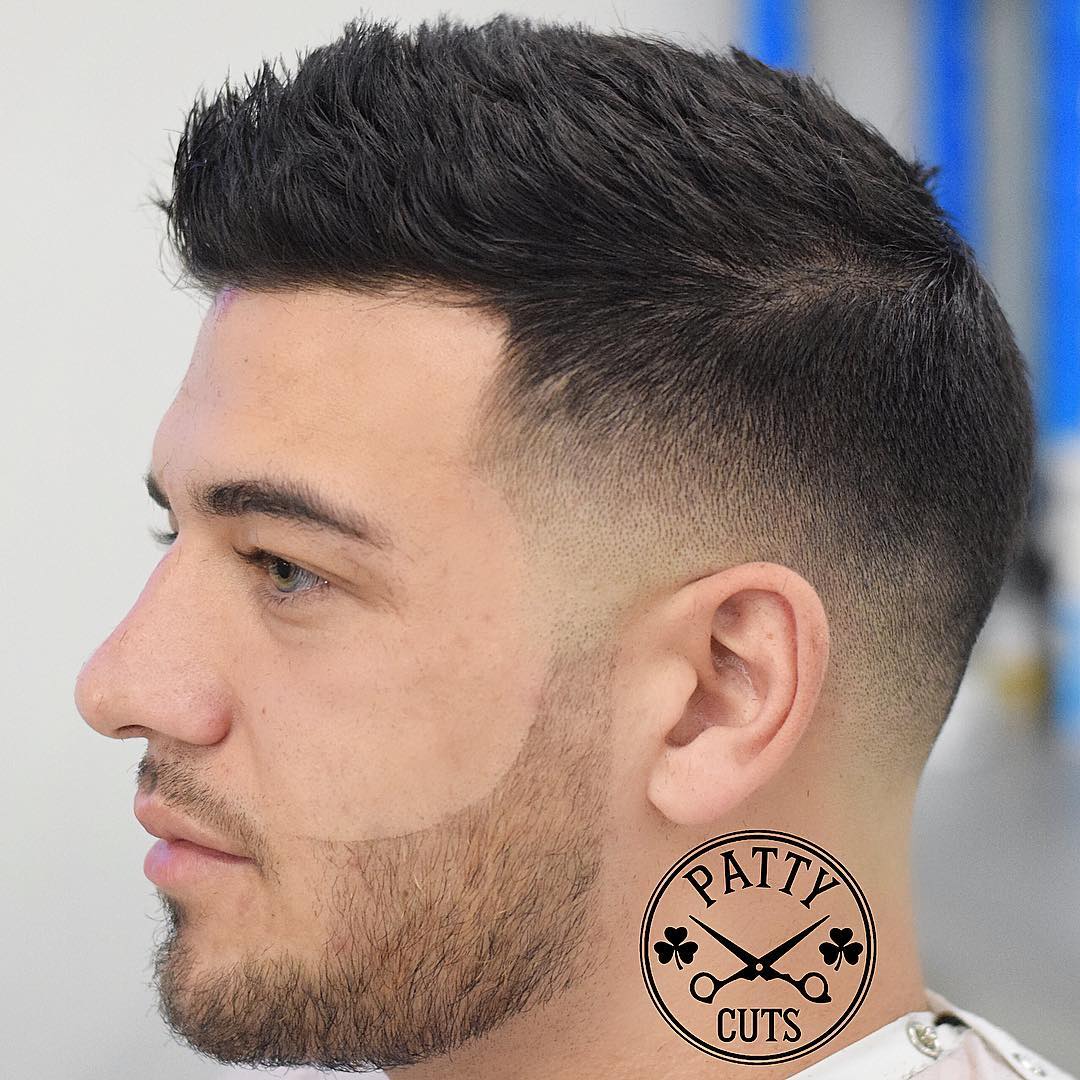 Got thick hair? Check out this classic men's short haircut for thick hair. Short spiky thick hair neatly styled forward into a quiff.
24. Short Pomp + Surgical Part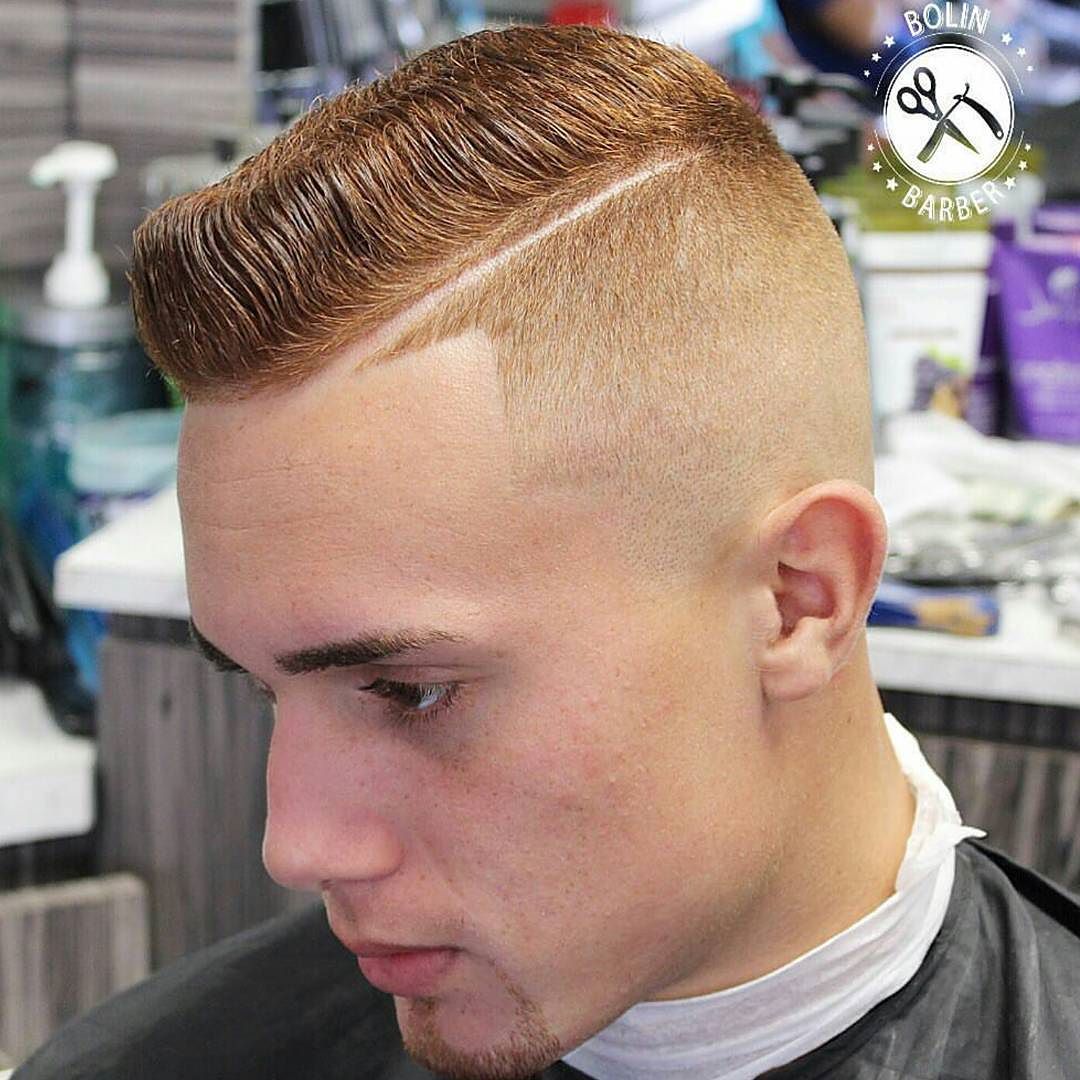 This is a blend of a short pompadour and a flat top. The high fade has a nice hard part accent.
25. Thick Crop + Textured Hair On Top + Bald Fade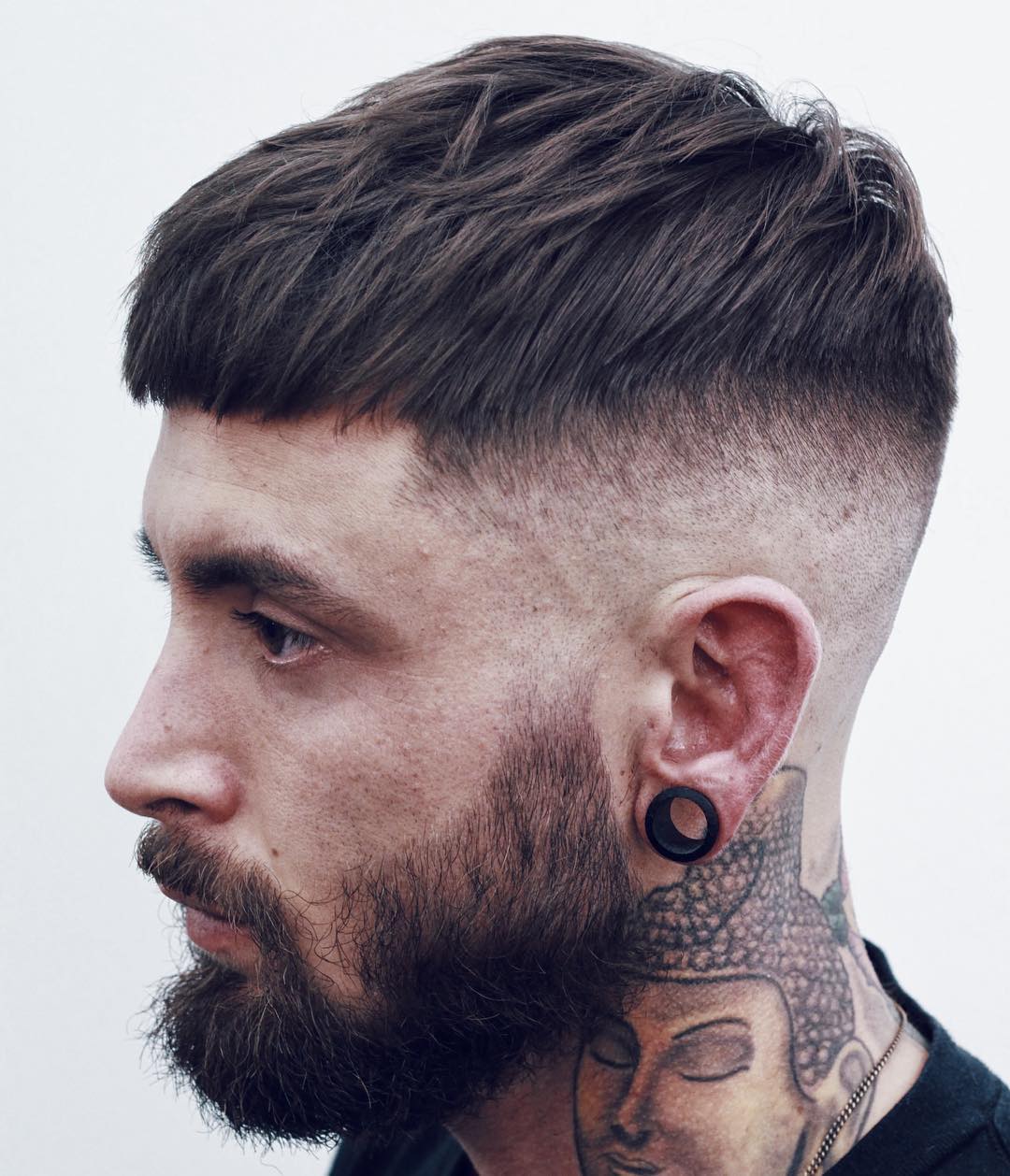 This is a great looking short messy crop hairstyle for men that have thick hair.
26. Short Crop Haircut With Blunt Bangs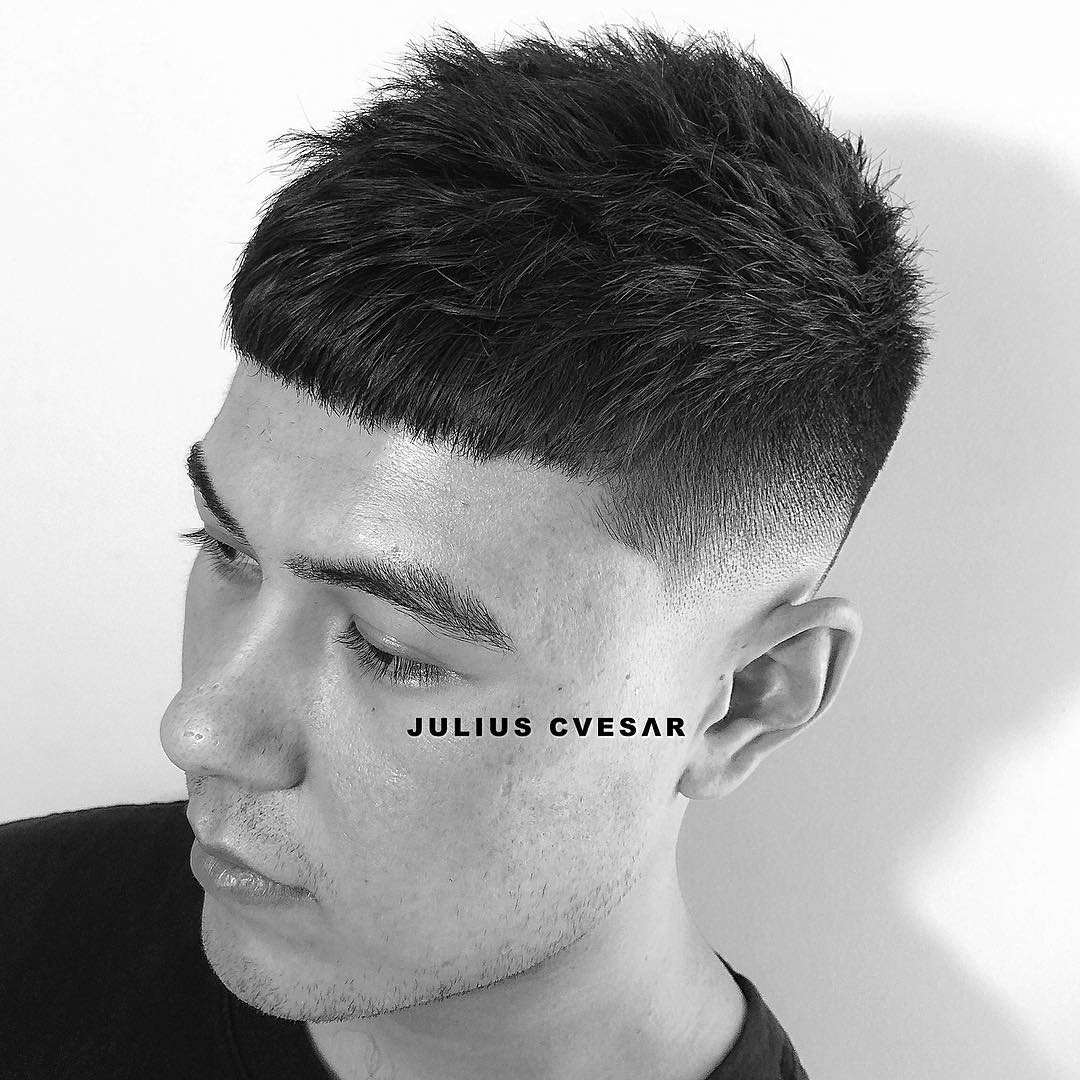 Ultra short blunt cut bangs and short spiky hair styled forwards into the crop look.
27. Classic Short Men's Haircut + Mid To High Fade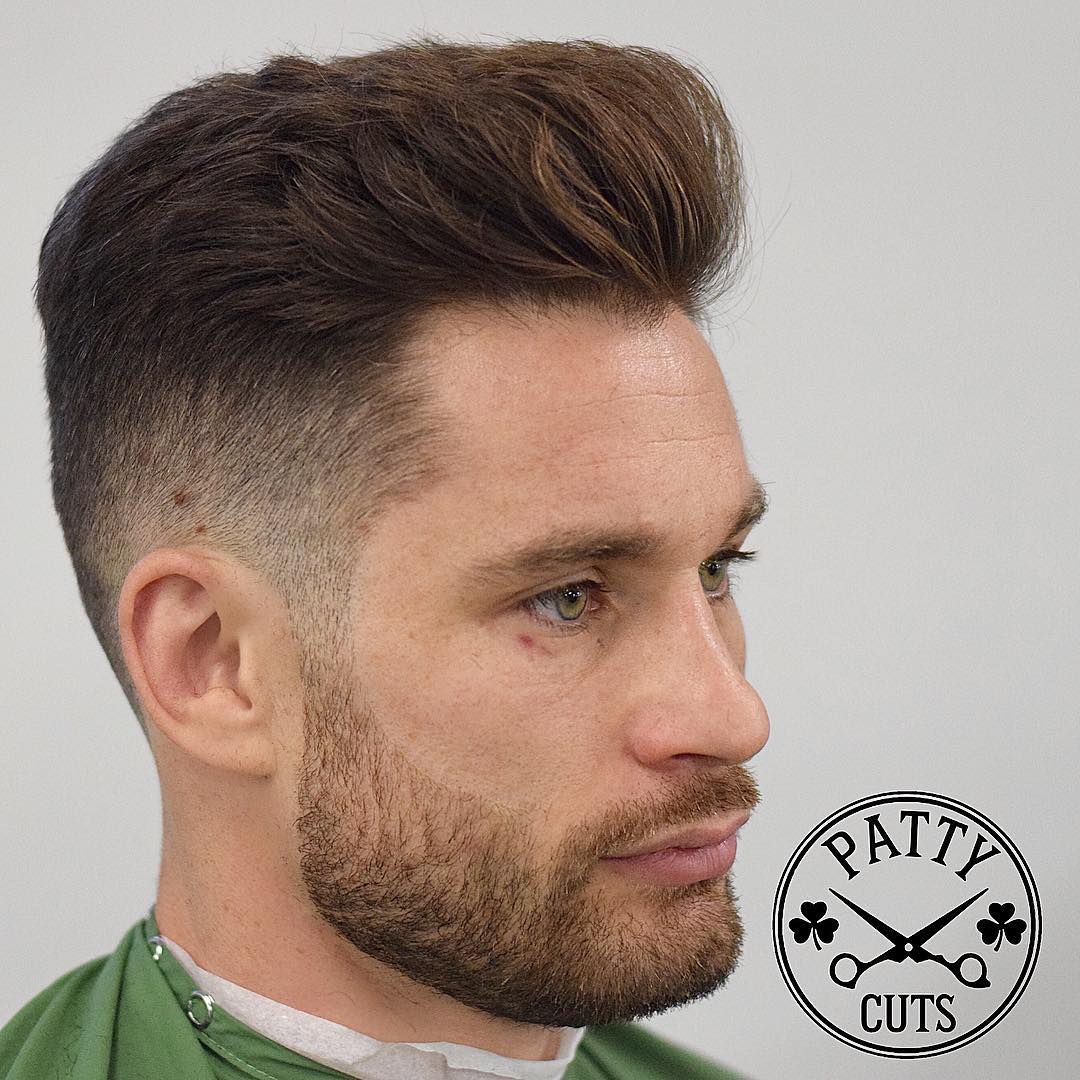 A simple great looking classic men's hairstyle for short hair. Simply blow dry and brush your hair to the back to get this style. Quick and easy.
28. Short To Medium Length Curls On Top + Clean Neck Taper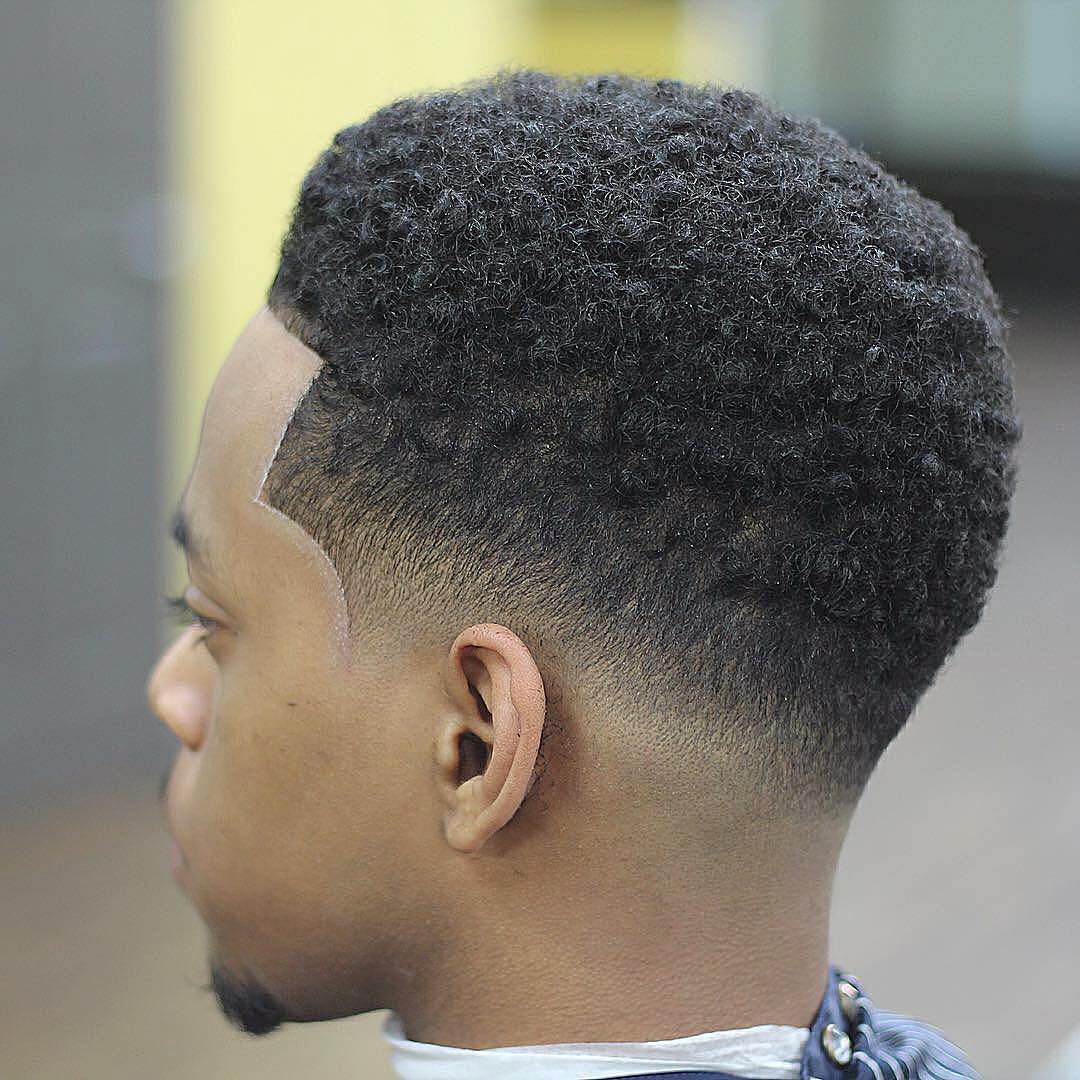 Short to medium-length curls stand out on top with a low fade on the sides and back. Features a freshie lineup in the front to polish off this look.
29. High Burst Fade + Cool Hair Design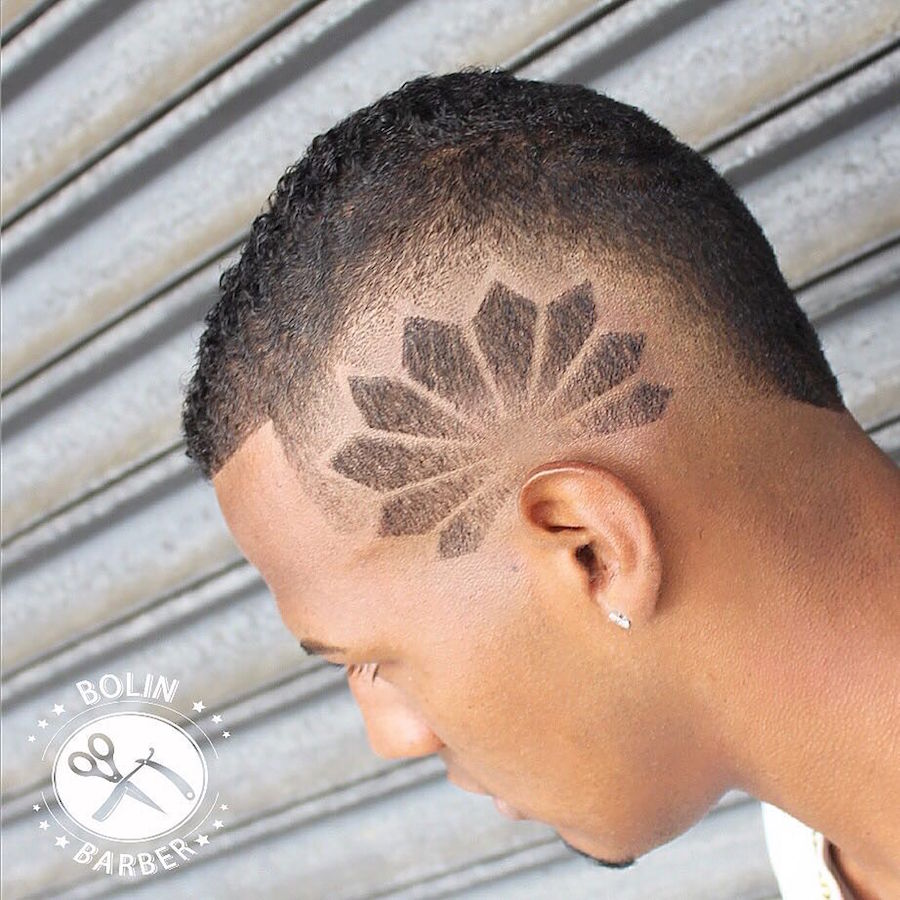 Want to stand out in the crowd? Get a short haircut and a cool hair design carved into a high fade.
30. Short Crop Haircut + Drop Fade + Hair Design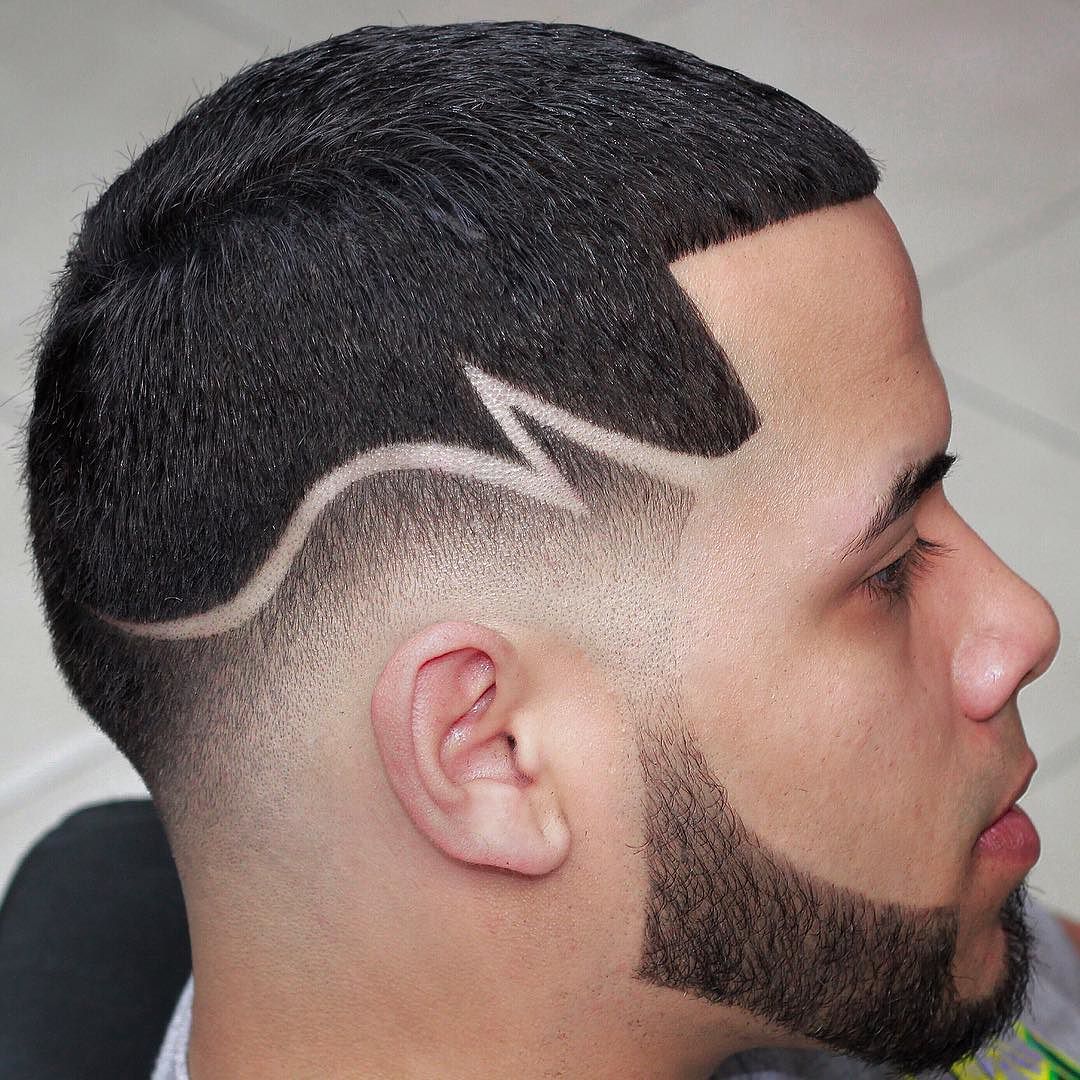 This is such a cool short haircut for men. A crop with some awesome hair design work on the sides and a disconnected beard to tie the look together. Nicely trimmed and neat upfront with a fresh lineup.
31. Buzz Cut + Curved Hard Part + Temple Fade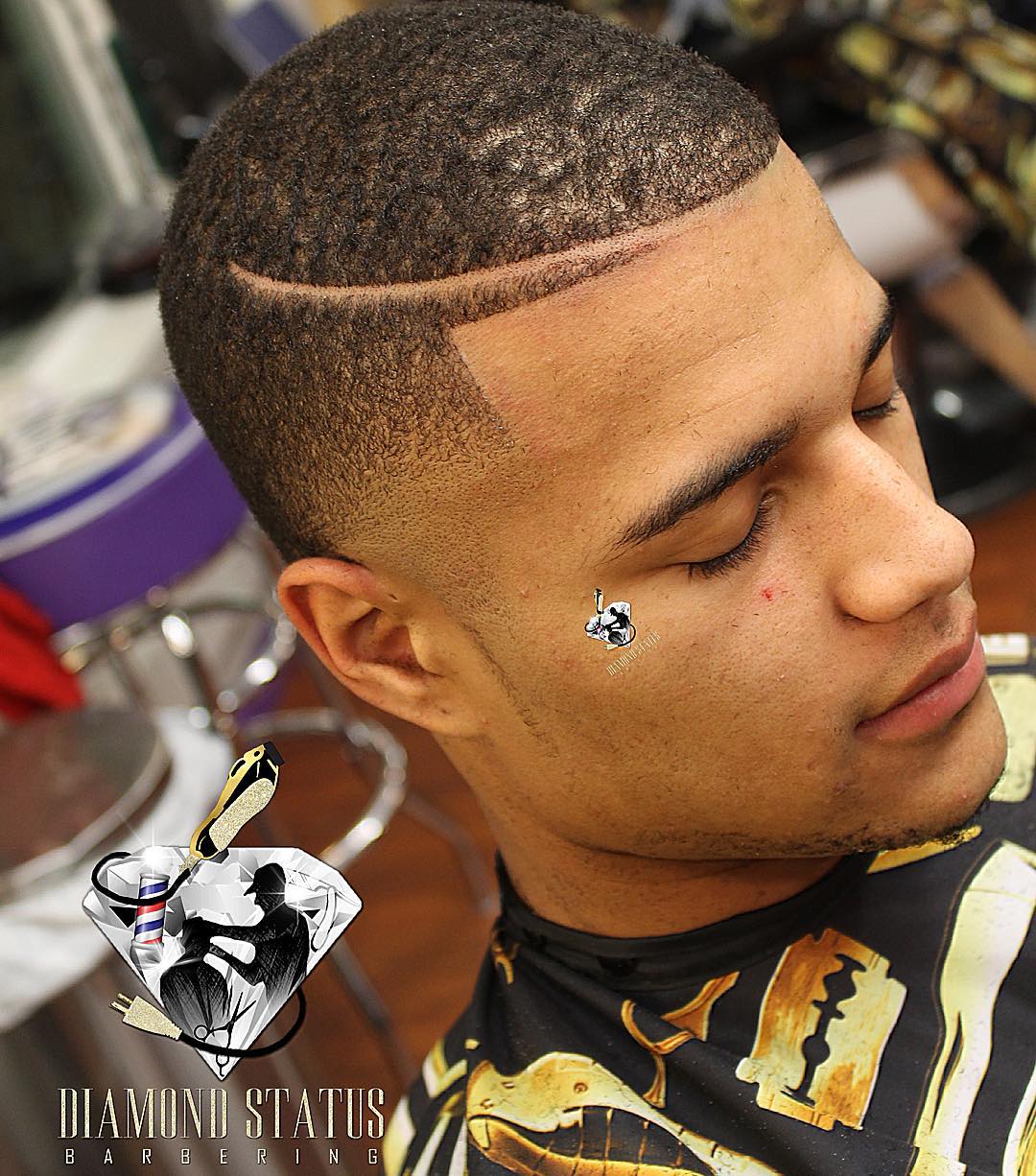 What a beauty. This short haircut has a tonne of style. Buzzed nice and short, lined up, and looking cool with a curved hard part on the side.
32. Easy Short Hairstyle for Curly Hair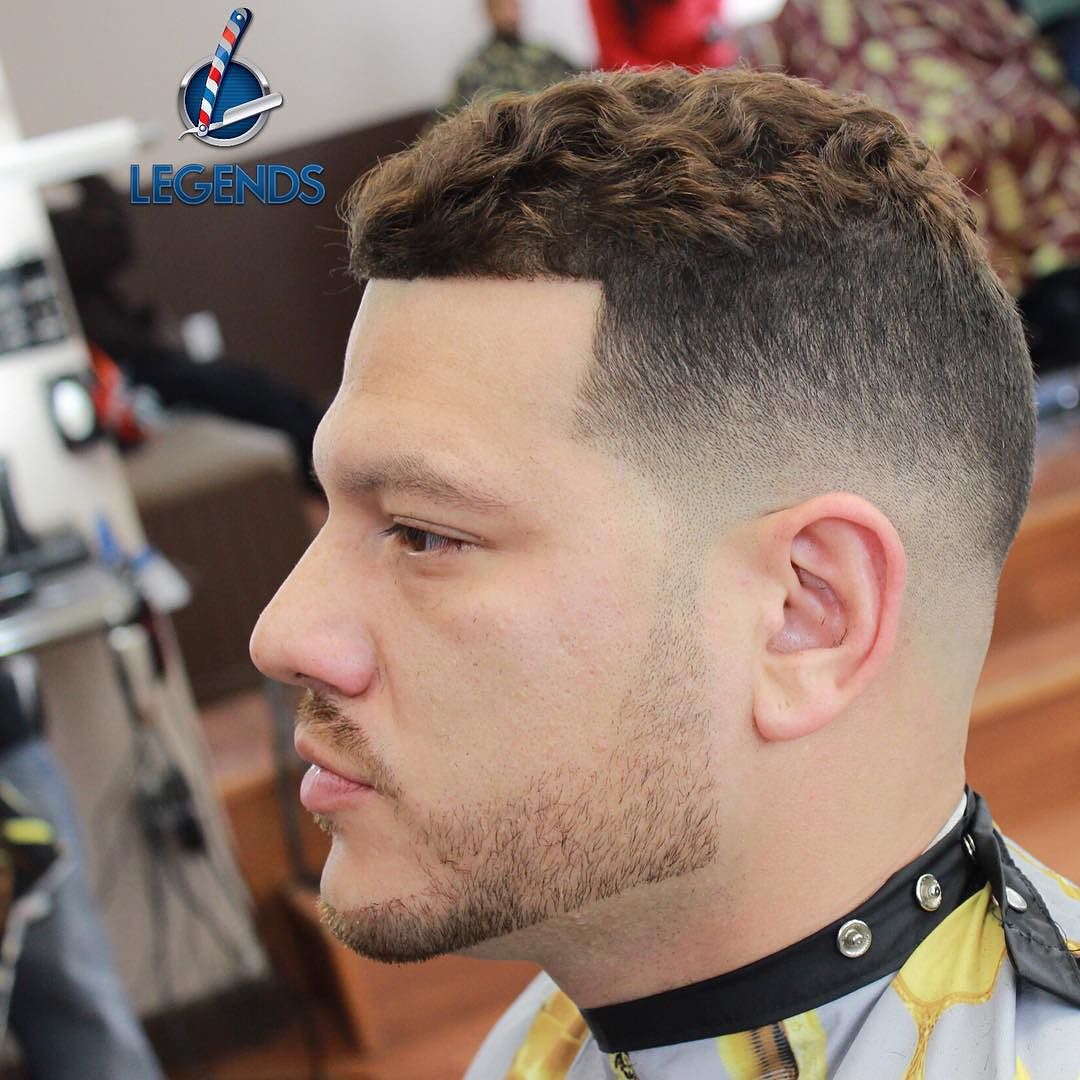 Tommy Roth
This is a great short hair look. Bald fade on the sides and back to keep you cool, line up in the front, and curls cut short and trim on top.